Our Platform: CDMNext
Connect the dots: Spot trends and analyze timely economic data on demand with CEIC's cutting edge web-based platform, CDMNext.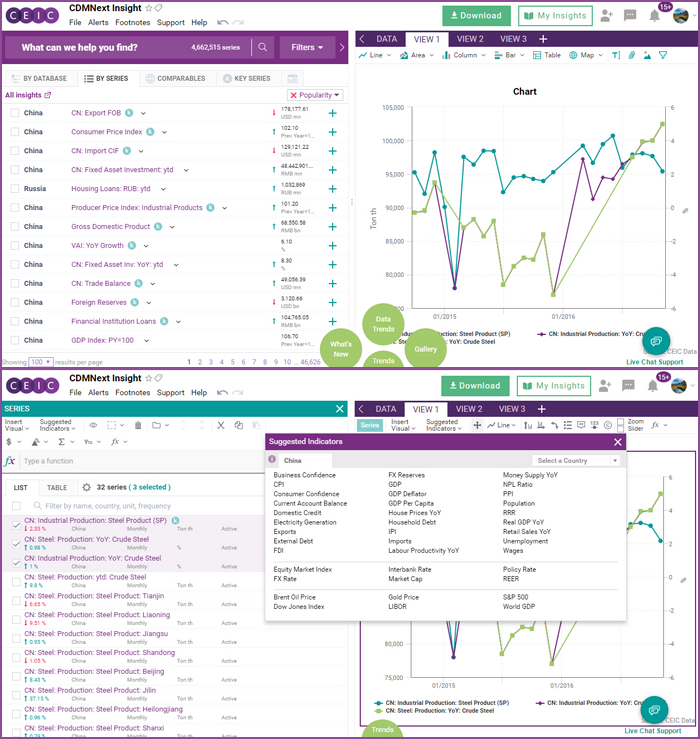 CEIC's recently released platform, CDMNext, offers a web-based solution that allows users to easily explore the 4 million + series in CEIC's databases to quickly create insightful charts, reports and analyses. Our new user interface is the next generation enhanced data platform that is the best in industry for usability, capability and performance. 

Our proprietary platform makes it easy to you to uncover data trends and insights. Users can leverage advanced visualization tools, transform series and extract data to Excel  with just a few simple steps. To assist with user queries, CDMNext also incorporates live support via chat so you can speak with one of CEIC's Helpdesk agents located around the globe. Rapidly validate your ideas, connect the dots between data series, and streamline your workflow with CDMNext.
KEY BENEFITS AND FEATURES
User-Intuitive Interface
Responsive and refined UI to empower users

Fluid and flexible layout to optimize screen display

Support for right click options, drag and drop and keyboard shortcuts
Drives your analysis
Customizable storyboard with data analysis tools making visual analysis easy

Robust math function library with detailed descriptions and illustrated examples

Access to the CEIC Gallery, containing pre-built charts and analysis on global market moving topics 
Data Download Options
Download up to 3,000 series at a time
Multiple download options for charts and analyses; including download to Microsoft Excel
Live User Support & Collaboration
Real-time support via live chat with our CEIC helpdesk agents on all platform and product related issues
Direct access to our CEIC Knowledge Base and support portal
Engage with CDMNext users in real-time via sharing and commenting features; form a community with your colleagues
Alerting Functions & CEIC News
Features important product updates and CEIC events/webinars
See what other users are interested in; view the latest popular series by subscription, sectors, regions, databases
Configure alerts for new data series updates and events
Customizable email notifications that allow users to stay informed on insight updates
Please sign up to request a demo or email us at info@ceicdata.com to learn more about how CDMNext can optimize your workflow.