China Manufacturing PMI - August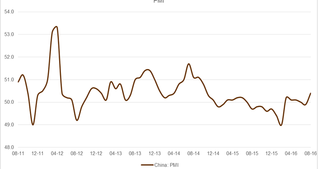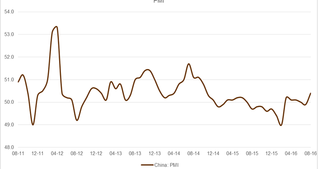 CEIC Gallery/Emerging Economies - September 1st, 2016
Summary
China released official manufacturing PMI data for August. According to the NBS, the index rose by 0.5ppt to 50.4, back to the track of expansion. It also recorded the new peak since October, 2014, largely beating market's expectation. In general, China's August PMI sent four messages: 1) steadily rising production; 2) market demand picked up while the supply and demand contradiction was relieved; 3) structural adjustment continued going forward, which was pushed by the supply-side reform; 4) rising confidence.
Chart 1 & 2
Chart 1: China's manufacturing PMI rose by 0.5ppt to 50.4 in August (July: 49.9), indicating a slight expansion in the nation's factory activity but an unstable foundation of overall economic recovery. A PMI reading above 50 indicates an expansion in manufacturing activity, while a reading below 50 points to a contraction.
Chart 2: Both large and small enterprises saw improving PMI of 51.8 and 47.4 with the biggest monthly increases since the beginning of the year, namely, 0.6ppt and 0.5ppt, respectively. However, PMI for medium companies remained at the same level of 48.9 as July.
Chart 3
Chart 3.1: Among five sub-indexes, New Order, Production and Supplier's Delivery Time started to rise above 50. The first two saw large increases of 0.9ppt and 0.5ppt, respectively, implying better market demand. In addition, the imbalance between supply and demand has been relieved given the smaller gap between New Order (Demand) and Production (Supply) indexes.
Chart 3.2: Employment and Raw Material Inventory indexes were bottoming up from 48.2 to 48.4 and 47.3 to 47.6, respectively, sending positive signals of manufacturing activities in China.
Chart 4
Chart 4.1 & 4.2: As a leading indicator of macro economy, improving PMI bring more confidence towards upcoming fixed asset investment data in August. China's fixed asset investment for the first seven months grew 8.1% YoY to Rmb31.2trn while YTD YoY growth for the fist six months was 9%. Private fixed asset investment further slowed down by 0.7ppt to 2.1% YoY, namely, Rmb19.1trn for the first seven months.
Chart 4.3: The production and business expectation PMI reading also shows stronger confidence. The index hit 58.2 in August, higher than that of July and last year.
Discuss this post
and many other topics in our
LinkedIn Group
(you must be a LinkedIn member to participate). Request a
Free Trial Subscription
.
Back to Blog Summary