Thailand's economy contracted by 6.4% y/y in Q3 2020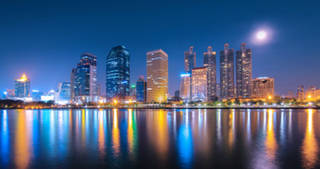 The easing of restrictions on normal activity, including domestic travel, led to private consumption declining by 0.6% y/y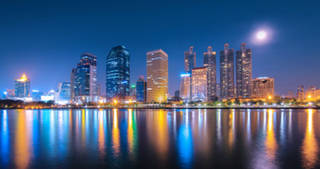 The reopening of Thailand's economy led to real GDP increasing by a seasonally adjusted 6.5% q/q in Q3 2020 after declining by 9.9% q/q in Q2.
This led to a more moderate, unadjusted decline of 6.4% y/y following a drop of 12.1% y/y previously, and over the first nine months of 2020 real GDP contracted at an average pace of 6.7% y/y.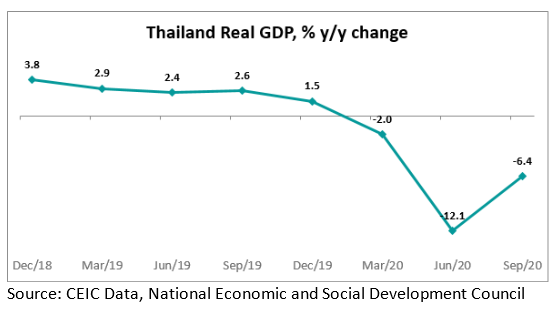 The easing of restrictions on normal activity, including domestic travel, led to private consumption declining by 0.6% y/y following a larger fall of 6.8% y/y in Q2. Spending on services, which had fallen sharply in Q2, returned to growth, while pent-up demand caused non-durable goods consumption to increase at a faster pace.
Government consumption, which rose by 1.3% in Q2, increased by 3.4% y/y, and public investment rose at the faster pace of 18.5% y/y. However, private investment declined for a third successive quarter, by 10.7% y/y, goods and services exports were down by 23.5% y/y and imports by 20.3% y/y.
Sign in for further data and analysis on Thailand's economy on the CEIC Thailand's Economy in a Snapshot – Q4 2020 report.
Country