Japan's GDP grew q/q annualised for the first time in four quarters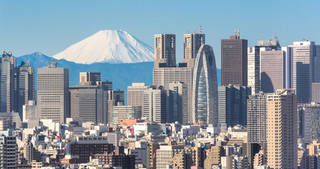 Following an unprecedented 8.2% q/q contraction in Q2 2020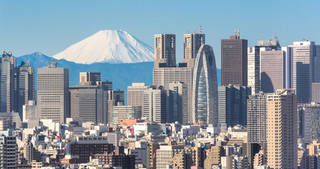 Real GDP increased for the first time in four quarters in Q3 2020, at a seasonally adjusted annualised rate of 21.4%, after declining by 28.8% in Q2 2020 due to the demand and supply shock caused by the pandemic-related lockdown measures.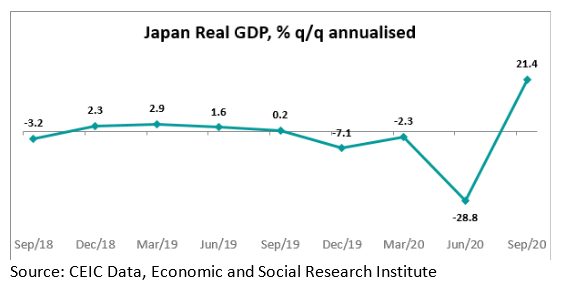 Following an unprecedented 8.2% q/q contraction in Q2 2020, real GDP rose by a seasonally-adjusted 5% q/q in Q3. The reopening of the economy spurred pent-up demand for consumer goods and services, leading to private consumption increasing by 4.7% q/q (20.1% annualised) after previously declining by 8.1% q/q. Goods and services exports recovered from a 17.1% q/q drop to grow by 7% q/q (31.3% annualised) and with imports declining by 9.8% q/q (33.8% annualised) net exports made a positive contribution to GDP growth. Government consumption and investment also rose in Q3, but residential and non-residential investment declined. 
Sign in for further data and analysis on Japan's economy on the CEIC Japan's Economy in a Snapshot – Q4 2020 report.
Country