Brazil's preliminary inflation rises in November
From January to November 2020, the index rose by 3.13% y/y
The Extended National Consumer Price Index 15 (IPCA-15) grew by 4.22% y/y in November, the fifth increase in a row, supported by higher prices of food and beverages. The IPCA-15 is a preview of the official inflation index, with the difference being the data collection, which is carried out from the 16th day of the previous month to the 15th of the current one.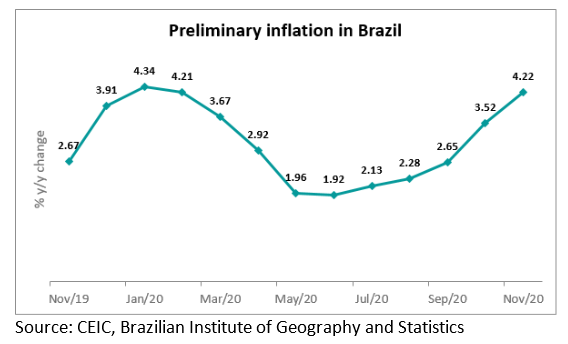 From January to November 2020, the index rose by 3.13% y/y, and remains below the 4% target for 2020. However, the prices of food and beverages jumped by 12% year to date, as the depreciated exchange rate increased the costs of production, and the government's transfer programs kept the demand robust during the pandemic.
Further data and analysis on Brazil's economy could be found on the CEIC Brazil Economy in a Snapshot – Q3 2020 report.
Country