Brazil's CEIC Leading Indicator stood at 85.9 in November 2021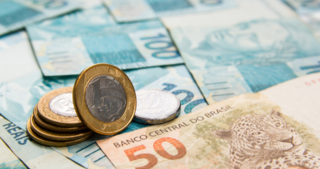 The lowest figure in 18 months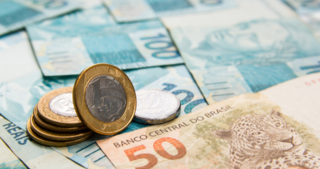 The CEIC Leading Indicator for Brazil was 85.9 in November, the lowest figure in 18 months, meaning that the largest Latin American economy may continue slowing down in 2022. Lower consumption spending, higher fiscal risks and uncertainties regarding the global recovery may reduce growth prospects in both the short and medium run. The effects of the COVID-19 pandemic may also threaten the long-term performance of the country, as the smoothed indicator also declined in November, standing at 88.2, compared to 91.7 in October.

Some key variables supported the performance of the CEIC Leading Indicator in November. The equity market index Ibovespa fell to 101,915 in the end of November from 103,500 in the end of October, reflecting fears around the new Omicron variant of COVID-19 and fiscal uncertainties, as the central government plans to expand public expenditures by BRL 106bn in FY2022. The heated construction industry may slow down in the next months, as the expectation to purchase inputs index slipped to 54.4 in November from 55 in October 2021. The consumer inflation expectation indicator peaked at 10 in November, supported by higher prices of electricity and fuels. The manufacturing confidence indicator plunged to 2.1% in the eleventh month of 2021, from 5.2% in October, reflecting the global shortage of parts and components, higher costs, and the growing consumer inflation – which has eroded the purchasing power of households. The international crude oil prices, on the other hand, edged down to a monthly average of USD 80.4 per barrel in November from USD 82.1 per barrel in October.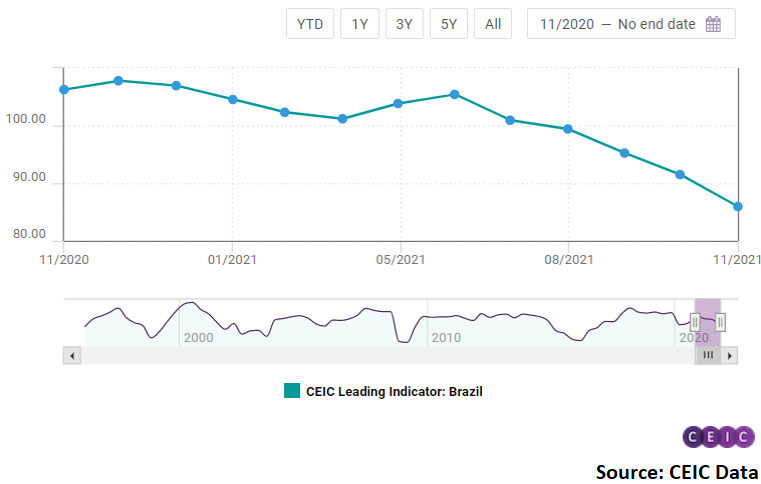 The smoothed CEIC Leading Indicator fell by 3.5 points to 88.2, below the neutral value of 100. The smoothed indicator has been declining since January 2021, suggesting that the domestic response to the COVID-19 pandemic and the new global scenario have negatively impacted the country's long-term performance. Due to the growing inflation in the country, the central bank raised the Selic rate by 1.5 pp to 7.75% on October 27, but many investors remain cautious to invest in Brazilian assets, as it seems less likely that the federal government will implement a fiscal austerity programme in the next years. In addition, the country will have elections in 2022, which brings more uncertainty to the fiscal outlook. Read more.

Brazil's CEIC Leading Indicator is updated monthly, available from January 1996 to November 2021. The data reached an all-time high of 125.41 in July 2000 and a record low of 50.22 in April 2020.
 Further data and analysis on Brazil's economy are available on the CEIC Brazil Economy in a Snapshot – Q3 2021 report.
Country