Brazil's current account deficit widens in October 2021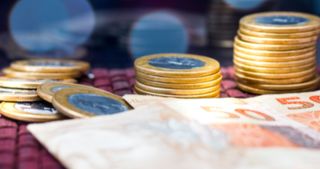 Brazil's current account posted a deficit of USD 4.5bn in October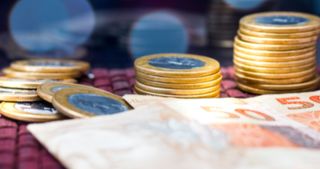 Brazil's current account posted a deficit of USD 4.5bn in October, widening the gap from USD 1.9bn deficit in the previous month, data by the Central Bank of Brazil shows. Compared to a year earlier, the deficit also widens: in October 2020 it was worth USD 1.2bn.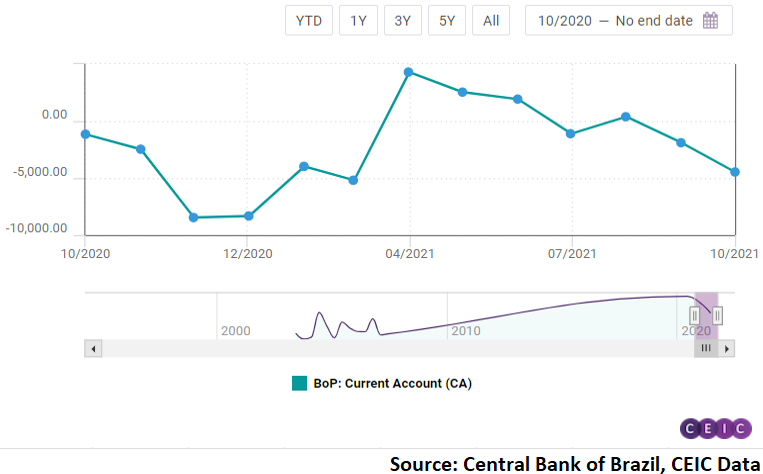 The growing deficit in October 2021 was driven mainly by the larger gap in the primary income balance (USD -4.6bn in October 2021 compared to USD -3.4bn in September 2021), and the smaller surplus in the goods balance (USD 1.3bn in October 2021 compared to USD 2.6 in September 2021). The services and the secondary income accounts barely changed in October compared to the previous month.

Most of the services balance components posted deficits, with the largest figures recorded by the operating leasing services (USD -602mn) and transport (USD - 536mn).

In terms of the financial account, it registered a USD 4.75bn deficit in October compared to a gap of USD 1.95bn in September. The direct investment balance was negative at USD -137.5mn, as well as the portfolio investments (USD -2bn).

More visuals here.
 Further data and analysis on Brazil's economy are available on the CEIC Brazil Economy in a Snapshot – Q3 2021 report.
Country