Japan manufacturing PMI stood at 54.2 in November 2021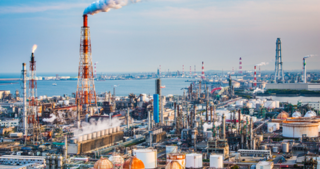 The most recent figure is the highest since January 2018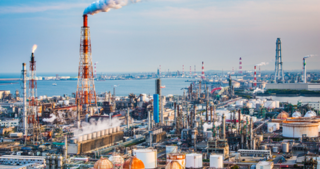 Japan's business activity in the manufacturing sector expanded in November for the second consecutive month. The flash estimate of the Purchasing Managers' Index, published together by Jibun Bank and IHS Markit, points to an increase to 54.2 from 53. The most recent figure is the highest since January 2018. If the PMI stays above 50, it means the sector is growing, and a decline, but with the figure still above 50, signals that the expansion is slowing down. The manufacturing sector in Japan is performing much better compared to a year earlier, as the PMI in November 2020 stood at 48.3.

Diving deeper into the breakdown of the data, the only component below the 50-mark is the suppliers' delivery times index. However, in November this component slightly improved after a steady decline since May. It has been consistently underperforming compared to the rest of the sub-indices since March this year, which reflects the supply chains disruptions experienced by many sectors globally as the economies are recovering from the COVID-19 related crisis.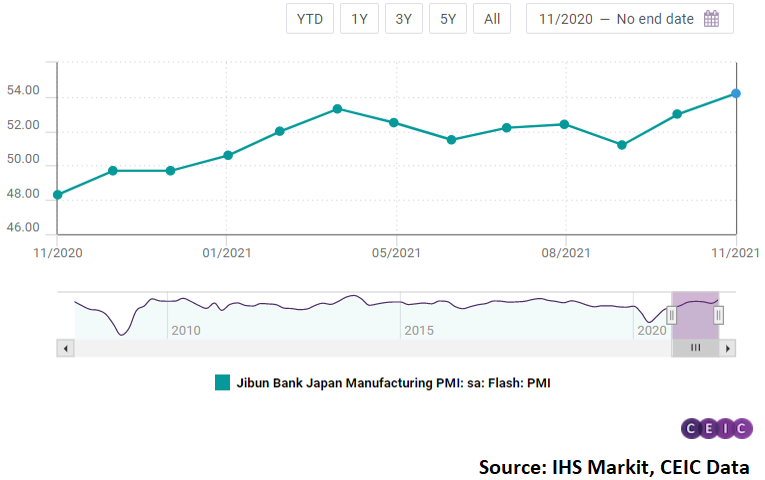 Yet another reflection of the supply chains disruptions is the input prices component of the PMI. The sub-index increased marginally in November to 71.8, which is the highest level since 2008. The indicator has been following a relatively steep upward path throughout the current year. The output prices, on the other hand, declined to 55.4 after four months of increasing.

The PMI is a carefully monitored indicator by economists and decision makers, as it sheds light on the performance of the manufacturing sector and the sentiment among companies. Japan's economy declined at an annualized rate of 3.3 q/q in Q3 as the impact of COVID-19 restrictions weakened domestic demand and foreign trade was hit by supply chain disruptions.

Find more details here.
Further data and analysis on Japan's economy are available on the CEIC Japan Economy in a Snapshot – Q4 2021 report.
Country