China-style QE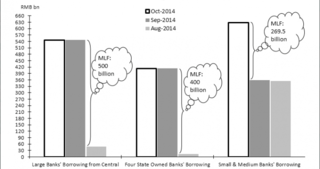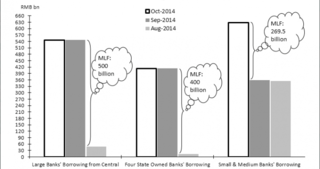 CEIC China Data Talk - December 2, 2014
Under the Chinese-style QE, the People's Bank of China (PBOC) has injected 400 billion yuan into four large state-owned banks including ICBC, ABC, BOC and CCB in September. Another 100 billion yuan went to CDB, BOCOM and PSBC. This liquidity should provide assistance to the cash needs of SOEs and large enterprises. Another 269.5 billion yuan was injected into small and medium-sized banks in October. The beneficiaries of this liquidity injection are to be thought of as micro, small and medium-sized enterprises as well as agriculture, rural areas and farmers.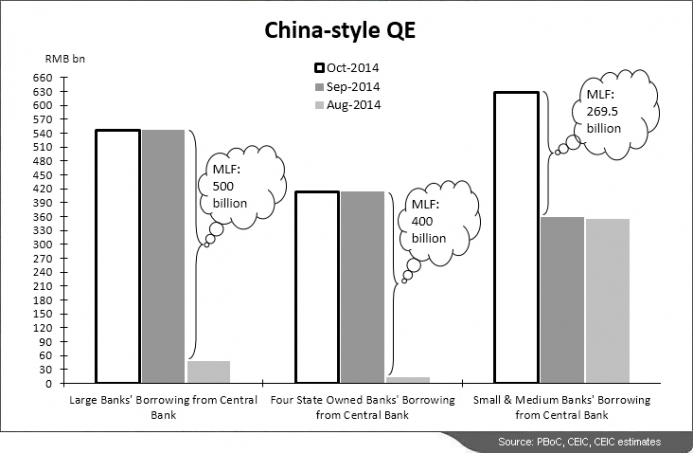 This base money injection is in fact a form of rescue measure for the economy. However, this method is quite different from other methods such as lowering the required reserve ratio or implementing an interest rate cut, which would not resolve current economic problems nor help economic restructuring. Instead this method of base money injection has a much stronger pertinence effect on the economy and is easily controllable. The authorities should therefore avoid using the other methods mentioned above. On November 6th, the PBOC confirmed for the first time that they injected 769.5 billion yuan into the market through a Medium-Term Lending Facility (MLF). However, the information was released with a time lag and is ambiguous. In fact, the sources and uses of funds of financial institutions statistics released on October 20th have already revealed the sign of the MLF operation. Clarity in the release of policy implementation to better guide market expectations definitely has a more positive impact than leaving the market participants to speculate about the operation. Does this mean announcing only good news while concealing bad news still dominates China's financial policy planning? Or does non-market driven behavior still prevail in the China's economy? Until now, the government has been very reluctant to adopt a loose monetary policy. Now that they have implemented the new QE policy, they have no way but to face its consequences. Would the policy guidance be more effective if the information released came with more clarity and in a timely fashion?
Contributed by the China Database Team
Discuss this post
and many other topics in our
LinkedIn Group
(you must be a LinkedIn member to participate). Request a
Free Trial Subscription
.
Back to Blog