GEM Newsletter: Crimean Crisis Fallout on Exchange Rates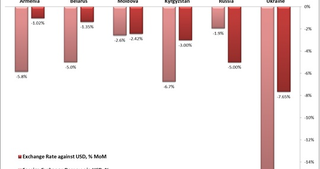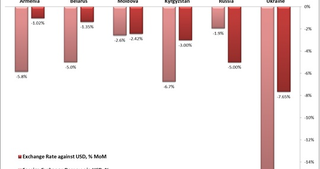 March 24, 2014 - CEIC Global Economic Monitor/WorldTrend database:
Crimean Crisis Fallout on Exchange Rates
Uncertainties over Crimea's annexation by Russia have resulted in large capital outflows in the two key players of the event – Russia and Ukraine – as well as spillover effects across the other Commonwealth of Independent States countries (CIS) with Ukraine stating its intention to withdraw from the CIS organization. Dramatic capital outflows have since resulted in heavy depreciation of currencies in the region since January 2014. Relative to the US Dollar, the Russian Ruble, Ukrainian Hryvnia and Kazakhstani Tenge were the most affected with February average exchange rates depreciating by 5.0%, 7.6% and 10.6%, respectively. Many central banks in the region had to resort to using Foreign Exchange Reserves to support their currencies. Ukrainian Foreign Exchange Reserves recorded a 15.1% month-on-month decline in February, to a recent low of USD 13.6 billon, while Russian reserves reached their lowest point since January 2011 (totaling USD 435.6 billon). Continued uncertainties (and possible escalation) may see continued currency depreciation and further declines in foreign exchange reserves.
GEM HIGHLIGHTS
Several countries have resurfaced from recession in the fourth quarter of 2013, including Ukraine with a 3.3% YoY Real Gross Domestic Product Growth Rate, Slovenia (1.9%), Portugal (1.7%), Czech Republic (1.3%) and the Netherlands (0.8%).
The benchmark interest rate (the one-day bi-lateral repurchase rate) in Thailand has been reduced to 2.00% as of 12 March 2014 from 2.25% at the end of February. The Monetary Policy Committee decided to lower interest rates in view of subdued core inflation (allowing the MPC some leeway in supporting the economy) and given the ongoing political turmoil.
Although most of the South American countries have improved their currency competitiveness relative to 2005, the real effective exchange rates (REER's) for Argentina and Venezuela (at 158.6 and 193.7 respectively in January 2014) indicate that the currencies of these two Latin American countries are among the most uncompetitive.
Yields on South Africa's three-month treasury bills continue their climb, reaching 5.76% as of February 2014. This was its highest rate since 2010 and is partially attributable to the downgrade on its sovereign debt.
Japan's M2 Money Supply Growth has slowed down slightly, reaching 3.9% YoY as of February. CPI Growth was firmly above 1% YoY in January, suggesting that Japan's deflationary woes might be over for the time being.
Discuss this post and many other topics in our LinkedIn Group (you must be a LinkedIn member to participate). Request a Free Trial Subscription. Back to Blog