China Construction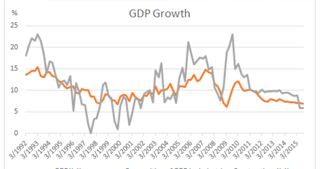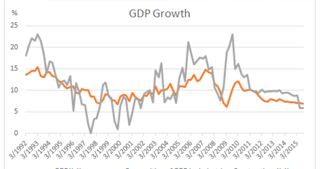 CEIC Gallery/Sectors - December 4, 2015
Market Overview
In China, decline in the growth of construction investment is one of the major reasons for the country's economic slowdown. Fixed asset investment (FAI) on new construction projects signals the slowing construction investment environment will continue, which is now described as "the new normal". The gross output value of construction reached its recent low in the June 2015 quarter. Perhaps, "One Belt One Road" provides an opportunity for Chinese construction companies to seek new orders.
Chart 1 & 2
Chart 1 shows the correlation between the GDP growth and the growth of the GDP composition contributed by the construction industry.
Chart 2 shows that both the growth of construction gross output value and total profits of construction enterprises were close to zero in the June 2015 quarter, the lowest in the past ten years.
Chart 3 & 4
Chart 3 indicates that the decline in construction GOV growth was mainly driven by the decline in building construction GOV growth, where building construction GOV accounted for 64% of construction GOV in 2013.
The growth of residential building FAI has been declining since early 2014 as property developers have been lowering housing inventory. Meanwhile, the railway transport FAI was growing steadily at double digits as infrastructure construction is one of the ways to meet GDP growth target by the government.
Chart 5 & 6
Chart 5 and Chart 6 show that both the growth of FAI on new construction project and the growth of building construction area started have been decreasing since mid-2014. The latter has even dropped to negative figures since the March 2015 quarter.
Chart 7 & 8
With less growth on new project investment, the growth of construction inventory, the growth of new construction contract value and the growth of construction contract value reached their recent lows in the June 2015 quarter.
Chart 9 & 10
"One Belt One Road" was announced in late 2013 for solving the overcapacity issue in China. With no doubt, this would be a good opportunity for Chinese construction companies to seek new orders outside China.
Chart 10 shows that the outward direct investment to the "one belt one road" countries has increased rapidly since 2013.
Chart 11 & 12
Chart 11 and Chart 12 show the growth and the value of the number of employee and enterprise, respectively.
Discuss this post
and many other topics in our
LinkedIn Group
(you must be a LinkedIn member to participate). Request a
Free Trial Subscription
.
Back to Blog