Urbanization Rate in China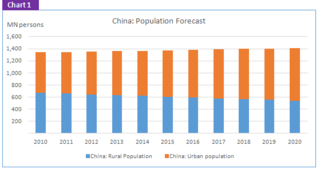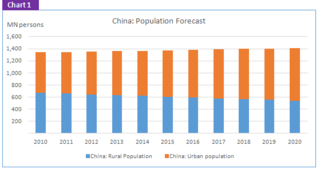 CEIC Gallery/Macro - November 30, 2015
INTRODUCTION
China mentioned in its suggested 13th 5-year plan the target of doubling the country's GDP in 2020 compared to 2010. Urbanization is one of the economic engines to maintain the country's high to medium economic growth. In fact, China has already started a new-style urbanization plan in 2014. The term "new-style" refers to the urbanization plan that would not degrade residents' living quality, the region's agricultural development and ecological environment. Under the plan, urban development in both city and township areas have the same importance. According to the National New-Style Urbanization Integrated Pilot Program announced by the National Development and Reform Commission (NDRC)'s Development Planning Department, Jiangsu Province, Anhui Province and 62 counties/townships (1) of other provinces have been selected as the pilot regions of this urbanization plan. The program has been starting from late 2014. It is expected to be reviewed in 2017 and expand to other regions during 2018-2020. The urbanization plan includes the reform of household register system, establishing a mechanism for sharing the cost of assisting migrant workers among the government, enterprises and individuals, setting up a diversified and sustainable financing and investment mechanism for urbanization projects such as encouraging public-private partnership (PPP) investment and so on.
Note(1): Which includes 7 pilot districts/townships: Tongzhou District, Beijing; Nine Major Districts, Chongqing; Guangming New District, Shenzhen; Erdaobaihe Town, Antu County, Jilin ; Jinshan District, Shanghai; Samzhubzê District, Rikaze County, Rikazediqu Prefecture, Tibet; Longgang Town, Cangnan County, Zhejiang Province
What's more
The charts below show our CEIC China Discovery (CCD)'s forecast on population, urbanization rate and GDP per capita in national, province and county levels. CCD provides forecast of China's demographic, socio-economic and consumer data down to China's 31 provinces and 2289 counties, and up to year 2025. For more information, please contact our customer service team or visit http://www.ceicdata.com/en/products/ceic-china-discovery.
Discuss this post
and many other topics in our
LinkedIn Group
(you must be a LinkedIn member to participate). Request a
Free Trial Subscription
.
Back to Blog