Suppressed Inflation Rate in New Zealand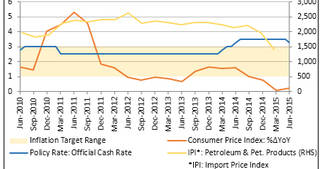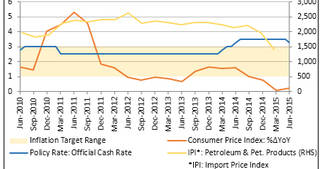 CEIC Macro Watch Global #46 - July 31, 2015
New Zealand's consumer price inflation decelerated to its lowest level since the third quarter of 1999, coming in at 0.1% year-on-year (YoY) in the first quarter of 2015. The slow pace of inflation growth continued in the second quarter of the year, when the consumer price index rose 0.25% compared to the same period of 2014. The declining inflation rate is largely attributable to the drop in global crude oil prices since June last year. The import price index of petroleum and petroleum products fell by 36.74% YoY in the first quarter of 2015, putting downward pressure on domestic fuel and energy prices. In addition, the slump in various other commodity prices, especially dairy prices, due to the slow global economic recovery contributed to further lowering inflation.
With inflation consistently hovering below the target rate's lower limit of 1%, the central bank decided to cut the Official Cash Rate (OCR) by 25 basis points to 3.25% in June 2015, its first interest rate cut since March 2011. This policy change is intended to deliver higher inflation in line with the target rate by boosting import prices due to the likely depreciation pressure on the New Zealand Dollar. In addition, given the forecast of weakening domestic demand, the cut also signals the intention to help stimulate economic growth.
By Lemuel Barredo in Philippines - CEIC Analyst
Discuss this post
and many other topics in our
LinkedIn Group
(you must be a LinkedIn member to participate). Request a
Free Trial Subscription
.
Back to Blog