The Wood Sector as a Growth Driver for Latvia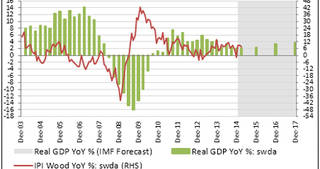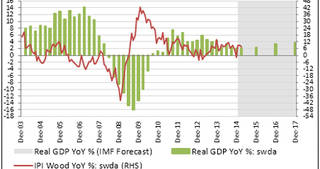 CEIC Macro Watch Global #44 - May 29, 2015
Due to Latvia's landscape, wood production has traditionally been an important driver of economic development in the country. Crucial for the construction sector, it also represents one of Latvia's major exports. This results in the significant influence of wood and wood products output on Latvia's gross domestic product (GDP). Since 2010 annual wood production has averaged 6% of the country's GDP, compared to a 3.8% average in 2008-2009, reflecting a structural change in economic activity.
The Central Statistical Bureau recorded peaks in both wood production volumes and exports in 2014. In particular, wood, and wood and cork goods' production accelerated by 10.9% year-on-year (YoY) in 2014, compared to an annual growth rate of 6.2% in 2013. Wood production continued its strong performance in the first quarter of 2015, increasing by 9.6% YoY which, assuming it continues, indicates a promising growth potential for Latvia's economy in the near future. According to the International Monetary Fund, the country's real GDP will increase by 2.3% in 2015, 3.3% in 2016 and 3.7% in 2017.
By Karolina Jańczak in Poland - CEIC Analyst
Discuss this post
and many other topics in our
LinkedIn Group
(you must be a LinkedIn member to participate). Request a
Free Trial Subscription
.
Back to Blog