Double-Digit Credit Expansion in Oman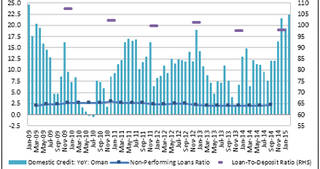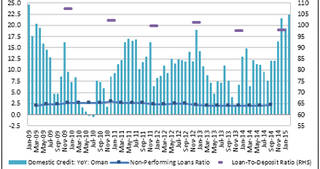 CEIC Macro Watch Global #43 - April 30, 2015
Domestic credit in the Sultanate of Oman has been growing at an impressive pace over the past few years. In February 2015, domestic credit (calculated as the sum of depository corporations' net claims on government, public enterprises and the private domestic sector) grew by 22.4% year on year (YoY) - the single highest YoY growth since January 2009. The high growth rates in the first two months of 2015 are in line with the double-digit average growth observed in 2014.
Despite this remarkable credit expansion, the Omani banking system hasn't shown any signs of overheating so far. As of February 2015, the loan-to-deposit ratio of the commercial banks stood at about 97%, meaning the sector has enough liquidity and relies on its own deposits to fuel the credit growth. Moreover, the commercial banks' non-performing loans are manageable, amounting to only 2.2% of total loans as of September 2014.
By Kamen Parushev in Bulgaria - CEIC Analyst
Discuss this post
and many other topics in our
LinkedIn Group
(you must be a LinkedIn member to participate). Request a
Free Trial Subscription
.
Back to Blog