Macau's Gaming Industry Records First Annual Decline in 15 Years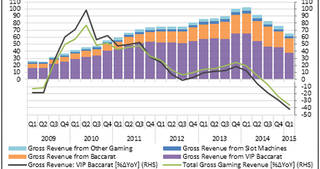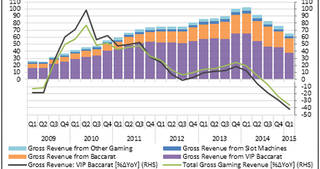 CEIC Macro Watch Global #43 - April 30, 2015
In 2014, Macau's gaming industry experienced its first revenue decline in recorded history since 2000, declining (compared to 2013) by 2.53% to MOP 352.7 billion. The world's largest gambling hub has consistently achieved double-digit revenue growth in most years, except for 2005 and 2009, when revenues still increased by 8.3% and 9.6% respectively. In 2011, revenue grew by almost 42%.
After a strong first quarter of 2014, the major contributor to the slump thereafter was the sharp fall in revenue from Baccarat, and specifically VIP Baccarat (falling by 5.83% during the second quarter), the game that has consistently generated the highest revenue in the industry. Baccarat played by VIP customers comprised a share of 67.5% of Macau's total gross gaming revenue in the first quarter of 2013, compared to a share of 57.9% two years later for the first three months of 2015. One of the factors behind this fall is China's anti-graft campaign, enforced in late 2012, which has deterred high rollers from excessive spending, especially on casino gambling. As Macau relies heavily on its gaming industry (and on an influx of wealthy Chinese to sustain it), the declining industry revenue might pose threats to a large proportion of Macau's workforce, given that as of the end of last year 21.8% of total employment comprised workers in this sector.
By Yoke Ying Wong in Malaysia - CEIC Analyst
Discuss this post
and many other topics in our
LinkedIn Group
(you must be a LinkedIn member to participate). Request a
Free Trial Subscription
.
Back to Blog