Longer History Now Available for Select Global Economic Monitor Series under WorldTrend Database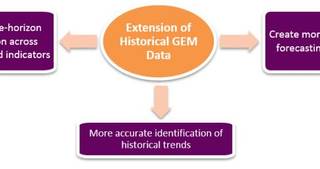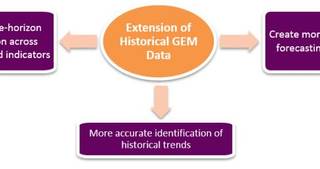 CEIC News@lert - Global Economic Monitor (GEM): April 1, 2015
CEIC is pleased to announce the extension of the historical span on over 750 Global Economic Monitor (GEM) series in the WorldTrend Database. The extended data series can be found under 10 of the GEM sectors and cover 30 major indicators for various emerging and developed markets. The historical data extension combines existing series in the GEM database with comparable datasets offering longer historical values, which adhere to the same high standards applied to all GEM data series. Some of the key benefits of this upgrade include:
Detailed methodological notes, including the series IDs of the auxiliary series used for the data extensions, are available in the GEM footnotes section, while quick references to the historical extension may also be found in the metadata notes on the series level. The data series extension follows a simple and intuitive process of combining series. No adjustments are conducted on the historical data added to the upgraded series, beyond the ordinary standardisation and normalization performed for all GEM series. This method offers the following key benefits to GEM users:
Preserves the originality of the data as provided by the source
Provides the flexibility to incorporate further adjustments to the historical data, using a preferred splicing method
Historical Extension Allows For Deeper Analysis
The data series extension allows for a broader look at economic trends. Analysis of economic indicators requiring a longer-term historical horizon that were previously unfeasible, are now possible with the extended datasets. The historical extension allows for better trend recognition and forecasting capabilities. Prior to the historical extension, Spain's external debt-to-GDP ratio depicted a fall to 152.97% in 2013 from 162.02% in the previous year, indicating a positive trend (see chart). As data on the past debt performance was lacking, a balanced analysis was previously impossible. However, with the historical data extended, a thorough evaluation of the ratio over time is now possible. This shows that despite its sharp rise from 96.55% in 2003, the debt ratio has plateaued in recent years, and in 2013 actually recorded its best performance since 2007.
The historical extension allows for making comparisons with past economic performance and drawing conclusions on the basis of a longer time horizon of data. In another example, Italy's Fiscal Deficit-to-GDP ratio rebounded to 3.03% in 2014, close to its pre-financial crisis levels.
Thailand's Economy Has Weathered Recent Crisis
Thailand has been through a few major socio-economic events for the past twenty years, as it struggled with two financial crises and a military coup. Thailand was hurt badly during the 1997 Asian Financial Crisis, which it was mainly at fault for initiating. Persistent current account deficits in Thailand prior to 1997 created devaluation pressure on the Thai baht (THB). Failing to protect the THB from speculative attacks, the Central Bank of Thailand floated the currency, triggering a financial and economic collapse. This saw Thailand's GDP contracting by 1.4% in 1997 and 10.5% in 1998 after having grown by 5.9% in 1996. The 2007-2008 global financial crisis also affected Thailand's economy, although on a relatively moderate scale. Thailand's GDP growth slowed to 2.5% in 2008 and the economy contracted by 2.3% in 2009 compared to growth of 5% in 2007. Despite some major socio-economic changes, Thailand's labour market has performed well in recent years, maintaining an unemployment rate of less than 2% since May 2006, with the exception of a slight rise to 2.36% during January 2009, partly due to the global financial crisis. The unemployment rate has been relatively stable and low even though it also faced two military coups, one in September 2006 and the other in May 2014.
Complete List of GEM Indicators Including Extended Series
Discuss this post
and many other topics in our
LinkedIn Group
(you must be a LinkedIn member to participate). Request a
Free Trial Subscription
.
Back to News