Eurasian Currencies Fall, Hurt by the Russian Rouble
CEIC Macro Watch Global #40 - January 29, 2015
As the Russian rouble struggles amid the plummeting price of oil and Western sanctions, it is also dragging down the currencies of the newly-created Eurasian Economic Union (EEU). The economic alliance, which came into effect on January 1st, 2015, was established by four member states – Armenia, Belarus, Kazakhstan and Russia, while Kyrgyzstan is expected to join the pact later this year.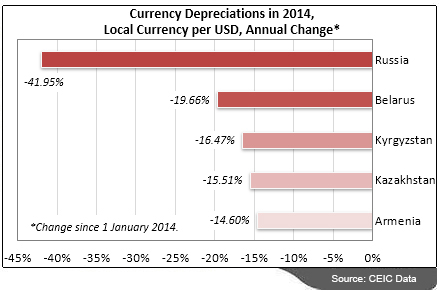 The EEU is heading for a rough start, however, as Russia's economic woes are already hurting the sovereign currencies of its member states. In 2014 the Russian rouble lost more than 40% of its value against the US dollar. This event had major spillover effects across the region, leading to sharp, synchronised depreciations of a number of currencies, such as the Belarusian rouble (-19.66%), the Kyrgyzstani som (-16.47%), the Kazakhstani tenge (-15.51%), and the Armenian dram (-14.60%). Thus, the EEU countries may face further economic challenges, such as higher inflation rates and diminishing disposable income, as the downfall of the currencies in the alliance continues into 2015.
By Kamen Parushev in Bulgaria - CEIC Analyst
Discuss this post
and many other topics in our
LinkedIn Group
(you must be a LinkedIn member to participate). Request a
Free Trial Subscription
.
Back to Blog