Sharp Rise in Peru's Quinoa Production
CEIC Macro Watch Global #40 - January 29, 2015
It is estimated that Peru will double its annual production of quinoa in 2014, a type of grain native to the Andean region. Having already produced 99.3 thousand metric tons (MT) during the first ten months of 2014, representing 103.8% growth over the same period of the previous year, the year-to-date production is already a large step up from the levels in 2012 and 2013, which were respectively 44.2 thousand MT and 52.1 thousand MT. The increased quinoa production growth stems from a 24.0% expansion of sown area to 57.1 thousand hectares in 2013. The extensive cultivation and production of the cereal are also largely in response to surging global demand, which is attributable to recent recognition that quinoa is one of the world's most nutritious foods.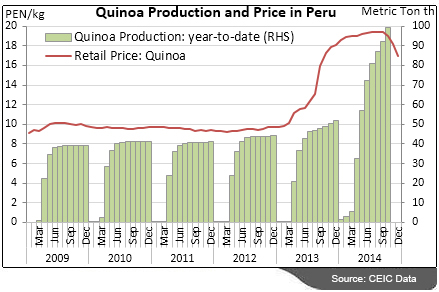 Although the rise in demand provides new opportunities for this Latin American economy (hitherto driven by its huge copper industry), excess external demand has pushed quinoa prices upwards to an unaffordable level for its citizens, who are the traditional consumers of the grain. Retail prices of quinoa hit a peak of 19.41 Peruvian Nuevo Sols (PEN) per kg in August 2014 (about USD 6.5/kg), jumping from PEN 9.50/kg two years ago. By the end of December retail prices had moderated somewhat to PEN 16.94/kg. In comparison, packed superior rice only retailed for PEN 3.65/kg in December 2014.
By Woon Khai Jhek in Malaysia - CEIC Analyst
Discuss this post
and many other topics in our
LinkedIn Group
(you must be a LinkedIn member to participate). Request a
Free Trial Subscription
.
Back to Blog