Slowdown in Brazilian House Prices
CEIC Brazil Data Talk - January 7, 2015
State-led initiatives on civil construction in Brazil, amid rising interest in the real estate market, have led to an increasing demand for key indicators on the construction and real estate sector. As a developing country, construction and real estate indicators, along with other, associated datasets, help to quantify confidence in the Brazilian economy. The CEIC Brazil Premium Database offers users a broad range of indicators for evaluating the trends and nuances in Brazil. Among its highlights is the FipeZap House Asking Price Index. Compiled by the Brazilian Institute of Economic Research (Fipe) in partnership with the online advertisement website, Zap, the index is based on advertised (offer) prices and is developed according to a robust sample gathered from around 200,000 real estate advertisements every month. The broad FipeZap Index, which tracks the housing prices in 20 cities in Brazil, including São Paulo, Rio de Janeiro and Brasilia, shows average house price growth slowing down in 2014. On a year-on-year (YoY) basis, the broad index decelerated for the twelfth consecutive month in November, to 7.37% YoY. Despite this decline, the increase in housing prices in Brazil is above the consumer price inflation, which stood at 6.5% YoY, according to the IPCA index (the official inflation benchmark). The deceleration in the broad index was followed by similar trends in Brazil's two main real estate markets, São Paulo and Rio de Janeiro, with their respective indices rising by 8.2% and 8.4% YoY in November compared to 13.6% in São Paulo and 14.9% in Rio de Janeiro a year earlier. In São Paulo, a new trend has emerged in recent years with the number of residential home sales with one bedroom posting a stronger increase. According to the Trade Union of Housing (SECOVI), 4,202 one bedroom units were sold in 2012 with the numbers almost doubling to 8,391 units during 2013. These buyers are either young people (usually students) seeking a first home or professionals from other cities who are not permanent residents in the city where they work. These demands were further spurred by investors who seek to capitalise on this trend. Rental yields on one bedroom houses in Sao Paulo hover at 0.47-0.49% since early 2014 compared to 0.43-0.45% of the overall Sao Paulo rental yield. Despite that, investors in one-bedroom apartments are also enduring the market slack with their house prices likewise consistent with the FipeZap Index decelerating trend in November 2014 (though overall yield remains slightly higher compared to other types of houses). The FipeZap Index for one bedroom apartments increased by 7.2% YoY, while for residential property with two and three bedrooms the rises were steeper, at 8.5% and 8.7% respectively. Prices of four bedroom accommodation rose by 7.2%, compared to double-digit rises in the same period of 2013.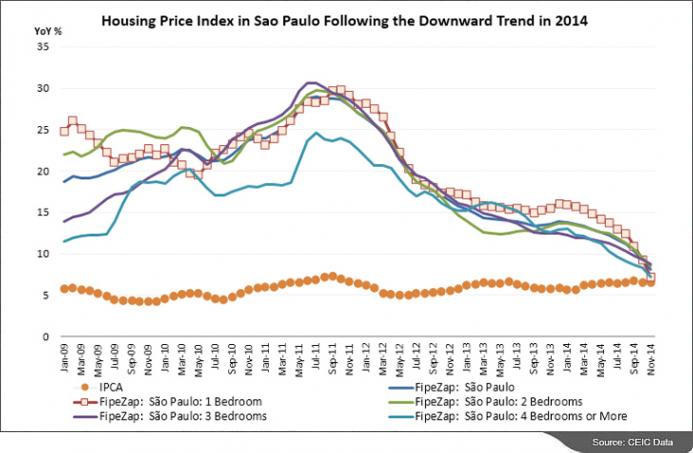 Part of the motivation for purchasing real estate as an investment may be to earn rental income benefiting from easy credit and strong demand for apartments. In general rental contracts in Brazil are secured on duration of 30 months and are adjusted annually by the IGP-M (General Price Index) from the Getúlio Vargas Foundation (FGV), which rose by 3.7% YoY in November; at the same time the FipeZap Index for rentals in São Paulo increased 2.1% YoY. Growth in rents for one bedroom property reached 4.7%, which is by far the highest among all types of property, reflecting demand (and available supply), and is above inflation. Rents for two bedrooms rose by 0.9% YoY and three bedrooms by 2.5% YoY, while four bedroom properties is costlier and less popular, with rents declining by 1.6% YoY in November. Changing demographics – in particular, increasing middle class and urbanisation patterns – has prompted prior increases in house prices. While growth in house prices are currently slowing down, real assets – including properties – are generally perceived to be a good hedge against inflation, given its ability to serve as a store of value. On a wider macroeconomic fundamental perspective, the gradual deceleration in Brazil's house price growth is a positive development given prior double-digit increases in property prices previously.
By Bruno Vasconcelos - CEIC Analyst
Discuss this post
and many other topics in our
LinkedIn Group
(you must be a LinkedIn member to participate). Request a
Free Trial Subscription
.
Back to Blog