Cambodia's Successful Labour Force Model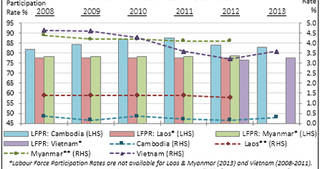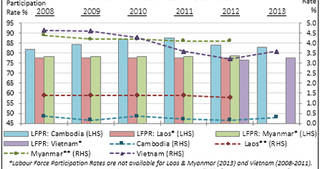 CEIC Macro Watch Global - November 28, 2014
Cambodia, alongside Laos, Myanmar and Vietnam, has experienced rapid economic expansion in recent years. Considered as a frontier market of South East Asia (SEA), Cambodia's real GDP has grown by more than 7% for three consecutive years since 2011. Similarly, the economy of Laos grew by more than 7.5% annually between 2007 and 2013, and that of Myanmar - by more than 10% annually from 2008 until 2011. Likewise, Vietnam's GDP grew by more than 5% since 2005, a slower yet healthy rate for a developing economy.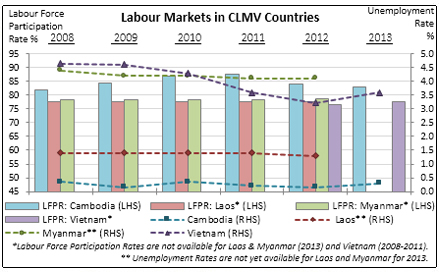 Despite similar economic development, Cambodia outshines its peers in terms of labour market conditions, with the highest labour force participation rate (LFPR) in SEA of 83.0% in 2013. Surprisingly, Cambodia still maintains a low unemployment rate of 0.3% as of 2013, in contrast to 1.3% and 4.1% unemployment rates in Laos and Myanmar in 2012, and 3.6% in Vietnam during 2013. The creation of an ASEAN Economic Community in late 2015 would allow investors easier access to Cambodia's labour resources, and is expected to further improve its LFPR and help maintain its low unemployment rate.
By Tevara Chairaksa in Thailand - CEIC Analyst
Discuss this post
and many other topics in our
LinkedIn Group
(you must be a LinkedIn member to participate). Request a
Free Trial Subscription
.
Back to Blog