Iran's Inflation Rate Falls to a Four-Year Low
CEIC Macro Watch Global - November 28, 2014
The growth of consumer prices in the Islamic Republic of Iran dropped to 14.4% year-on-year (YoY) in September, a four-year low, as a consequence of Tehran's new economic policies. The reduction of the existing high inflation rate to a one-digit level and ending the state of stagflation are the focal points of the economic programme of the government appointed last year. Last September, a month after President Hassan Rouhani took office, the inflation rate was above 40% YoY. The process of disinflation was led by slowing growth in food prices along with the gradual slowdown of housing and utility price inflation. In line with decelerating consumer price increases, producer price inflation experienced a similar trend, falling to a four-year low of 15.4% YoY in September.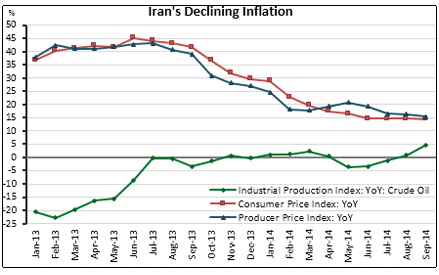 The declining inflation rates can be partially attributed to increased goods supply, evident in the upbeat industrial production. The industrial production index measuring crude oil production (a proxy for total IPI) rose by 4.73% in September – its highest YoY change since March 2008.
By Kamen Parushev in Bulgaria - CEIC Analyst
Discuss this post
and many other topics in our
LinkedIn Group
(you must be a LinkedIn member to participate). Request a
Free Trial Subscription
.
Back to Blog