Booming Gold Production in Mongolia After Tax Decrease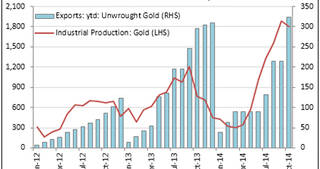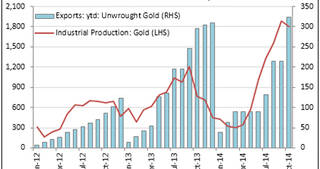 CEIC Macro Watch Global - November 28, 2014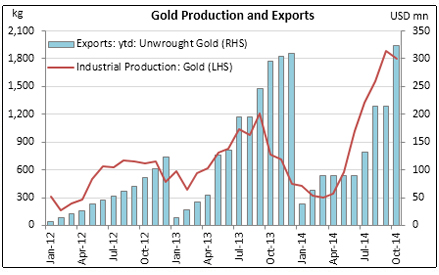 From the beginning of the year to September, gold production in Mongolia steadily increased before it tailed off slightly in October. Production of 1,797.6 kg in October was nonetheless 136.2% higher on an annual basis. Mongolia is rich in minerals and ores and has a long tradition of mining and quarrying activities. There are 67 companies operating solely in the sphere of gold mining. However, the recent surge in gold production can be largely attributed to the new amendments to the Law on Minerals approved by parliament which lower the royalty fees paid by gold mining companies and increase the proportion of Mongolia's area available to mining and exploration to 20% from about 8%. Lifting the 2010 ban on new licenses is also accompanied by an increase in the period for exploration to 12 years. Furthermore, the 10% royalty fee paid by the gold mining companies to either the Central Bank of Mongolia or to other commercial banks is reduced to 2.5%, thus stimulating gold extraction and limiting illegal mining activities. Gold exports also increased during the period, reaching USD 324 million by October 2014, a growth rate of 9.4% on an annual basis.
By Petar Chavdarov in Bulgaria - CEIC Analyst
Discuss this post
and many other topics in our
LinkedIn Group
(you must be a LinkedIn member to participate). Request a
Free Trial Subscription
.
Back to Blog