The Costs of the Food Import Ban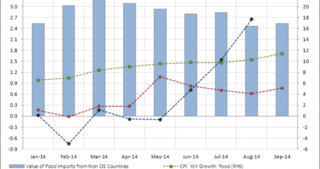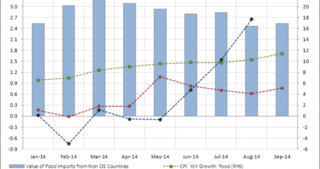 CEIC Russia Data Talk - November 10, 2014
Russia and its European trade partners have found themselves in a difficult situation over the conflict in Ukraine. In an effort to counter-balance the sanctions imposed by the EU on August 7, 2014, Russia slapped a retaliatory ban on selected food products imported from the EU, the US, Canada, Australia and Norway for the duration of one year. The following imported products are on the banned items list: selected meat products (poultry, beef, pork), fish, vegetables, fruit, cheese, milk and milk products. European countries, such as Poland, Finland, Spain and Lithuania, among others, were most harshly affected by the food import ban, as total year-to-date imports from these countries declined by 9.5% year-on-year (YoY), 10.2% YoY, 8.2% YoY and 10.4% YoY respectively by the end of August. They developed strong economic ties with Russia over previous decades which are now under threat. There was a valid fear that such actions might spur consumer price inflation in Russia, and indeed the consumer price index (CPI) rose by 8.0% in September 2014 (a three-year high), compared to the same month of the previous year, as well as by 6.3% since the beginning of 2014. Food inflation reached 11.4% YoY in September, and has risen by 8.4% since the beginning of this year. Inflation for most of the food products affected by the import ban reached new highs for the year in September, including meat products (a 14.9% YoY rise), beef (6.4%), pork (22.9%), poultry (22.2%), fish products (9.9%), and milk and dairy products (10.1%). However, inflation for some other food products decreased, smoothing the overall food price rise. For example fruit and vegetable prices have fallen by 3.3% since the beginning of the year, also taking into account their seasonality. The highest inflation was observed mostly in the South-Western Russian regions, caused by main local agricultural producers raising their prices in the absence of foreign competitors. Monthly inflation exceeded 1% in these regions and the western outpost, Kaliningrad, reached 1.9% CPI growth within a month. Although the main purpose of the food import ban was a political response to the sanctions imposed on Russia earlier this year, a secondary function was to stimulate local agricultural and food production. Food, beverages and tobacco manufacturing, measured by the industrial production index (IPI), grew by 5.1% YoY in September 2014. Growth momentum in this industry has continued since May 2014 due to its seasonality. September values for IPI growth in food, beverages and tobacco manufacturing compared to the previous month reflect a significant jump of 6.4% compared to the 1.9% monthly rise in August.
It is a challenge to precisely quantify which portion of IPI growth is due to the food import ban that consequently leads to growing demand for local production. Historic rouble devaluation to RUB 37.87/USD in September and the global oil price slump are possible reasons for producing locally rather than buying costlier imported food products, especially so for the fruits and vegetables, such as apples, potatoes, tomatoes, onions, carrots etc., which can easily be substituted locally. The food import ban has also been imposed at the time of harvest in Russia, making it easier for the transition. However, the situation with local production will become more difficult during the winter season when local food production is depleted, making imports hard to substitute. As Russia's relations with its closest trading partners from Europe worsen, food import substitution and switching to food imports from other countries in the CIS for example might follow, but this takes time. Food imports from non-CIS countries fell by 7.6% YoY, to USD 2.5 billion in September 2014. The following imported products from non-CIS countries declined significantly in September 2014: meat and meat products by 24.4% YoY (USD 407.8 million), milk products by 75.2% YoY (USD 48.7 million), vegetables by 51.5% YoY (USD 33.6 million), and fruit and nuts by 11.1% YoY (USD 291.8 million). This is a direct consequence from the skyrocketing import prices; for instance average import price of fresh and frozen meat from non-CIS countries spiked by 17.7% YoY in August, following a steep hike since June this year. The prerequisites for the current confrontation have been mounting for a long time due to unresolved conflicts within Ukraine and broader geopolitical tension between Russia and the West. The current situation, if left unresolved, will continue to hurt economic interests of all countries concerned. However, the solution to the broader economic confrontation depends on the successful political resolution within Ukraine.
By Alexander Dembitski - CEIC Analyst
Discuss this post
and many other topics in our
LinkedIn Group
(you must be a LinkedIn member to participate). Request a
Free Trial Subscription
.
Back to Blog