Brazil's Airports Open to Private Investors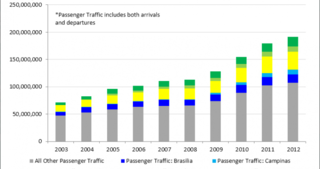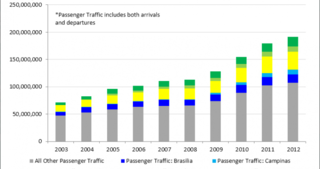 CEIC Brazil Data Talk - November 3, 2014
Since the early 2010s, Brazil has opened some of its key airports to private investors through public-private partnership agreements. Of note, five major airports have adopted the concessions model in two separate waves. The first wave occurred in February 2012 with the concession of the Brasilia International Airport, Sao Paulo-Guarulhos International Airport and Viracopos/Campinas International Airport (also in Sao Paolo state), while the second wave took place in August 2014 with the concession of Tancredo Neves/Confins International Airport (serving Belo Horizonte) and Rio de Janeiro's Galeao International Airport. The second wave, in particular, was introduced as part of the government's "investment programme in logistics: airports", launched in December 2012.
The concessions offered a controlling stake to the private sector while the state-run, Brazilian Airport Infrastructure Company (Infraero) would retain 49% equity with the state receiving periodic payments from both the sale proceeds and dividends. The agreement opened up the aviation sector to private investment - a potentially lucrative proposition given increasing demand for air travel from Brazil's burgeoning middle class and the interest in Brazil among foreign investors. This includes various dimensions of air transport including passenger travel, cargo and airmail delivery. Prior to its concession, the Brasilia International Airport, the Guarulhos International Airport and the Campinas International airport were already among the busiest Brazilian airports, boasting passenger traffic of 15.4 million, 30.0 million and 7.5 million respectively in 2011. Guarulhos International Airport, in particular, ranks as the busiest passenger airport not just in Brazil but in Latin America. Airports on concession during the second wave – Confins and Galeao –accounted for 10.2 million and 17.5 million passengers respectively as at 2012. In terms of cargo traffic, air transport plays an integral role in Brazil's commercial logistics, especially given its relatively large geographical area. In September 2014, air cargo loaded and unloaded at Infraero administered airports totalled 34.5 million kilogrammes, the bulk of which was domestic cargo (approximately 83.8% of total air cargo handled). Large production and distribution networks across Brazil may elevate the role of air transport. As a developing country, improving the infrastructure is vital for the economy, especially in the context of the movement of goods and services (logistics). Private participation in Brazilian aviation will be crucial in transforming the host cities of the airports and their nearby towns as production and distribution hubs. At the same time, the government believes that private participation would help to improve the Brazilian airport infrastructure and promote improvements in service levels, while reducing the administrative burden on the public sector.
By Bruna Ferreira - CEIC Analyst
Discuss this post
and many other topics in our
LinkedIn Group
(you must be a LinkedIn member to participate). Request a
Free Trial Subscription
.
Back to Blog