Rising Debt Burden among Malaysian Households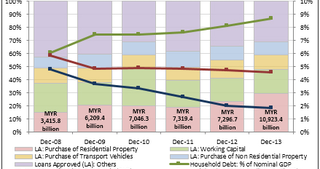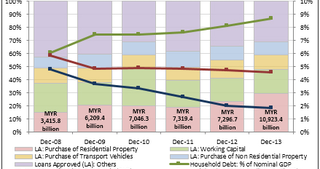 CEIC Macro Watch Global #34 - July 30, 2014:
Malaysia's household debt has reached a critical level with the burden as a proportion of GDP rising to 86.8% in 2013 from 60.4% in 2008. A possible factor accounting for this is the low interest rate environment in Malaysia, which lessens the cost of borrowing. The weighted average lending rate of the commercial banks fell to 4.6% in December 2013 from 5.9% in December 2008, which in turn encourages borrowing. As such total loans approved surged to MYR 33.1 billion in December 2013 from MYR 20.2 billion in December 2008. Among total loans approved, credit for the purchase of residential property constituted the largest share (30.8% of the total) as of 2013, growing at an annualized rate of 15.9% since 2008.
Despite the rising debt burden, the banks' average non-performing loan ratio improved to 1.9% in 2013, from 4.8% in 2008. This might be attributable to the growth of household income and strengthened management of credit portfolios in Malaysia, but does not on its own signify a low level of risk; the debt burden remains an issue.
By Raves Laiu in Malaysia - CEIC Analyst
Discuss this post
and many other topics in our
LinkedIn Group
(you must be a LinkedIn member to participate). Request a
Free Trial Subscription
.
Back to Blog