Ecuador's Rising Public Debt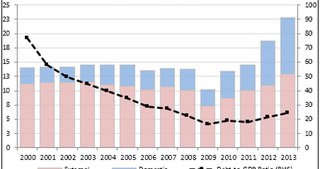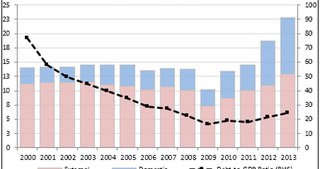 CEIC Macro Watch Global #34 - July 30, 2014:
Ecuador's public debt was significantly reduced in 2009 when the government managed to buy back 91% of its Global 2012 and Global 2030 bonds for 35% of their nominal value. Public debt then dropped to USD 10.2 billion in 2009 from USD 13.7 billion in the previous year. The improvement did not prove sustainable, however, as public debt grew by 30.3% in the following year, peaking at USD 22.9 billion in 2013, which is equivalent to 223% of the public debt burden in 2009.
Similarly, Ecuador's public debt-to-GDP ratio, which fell from 76.7% in 2000 to 16.4% in 2009, reverted to an upward trend thereafter, increasing to 24.4% by 2013. The increase in the debt level was the result of the government's decision to seek external funding to finance its investments in various development projects, with extensive borrowings from China. The current debt-to-GDP ratio is still well within the country's legal ceiling of 40% of GDP, with public spending being predominantly financed by oil proceeds. However, given prevailing oil price estimates and moderate economic growth, experts says the ceiling might be reached in seven years.
By Josiery Abas in the Philippines - CEIC Analyst
Discuss this post
and many other topics in our
LinkedIn Group
(you must be a LinkedIn member to participate). Request a
Free Trial Subscription
.
Back to Blog