CEIC Chart@lert: Hungary's Speeding Auto Sector Expansion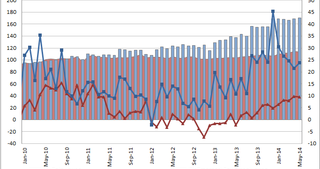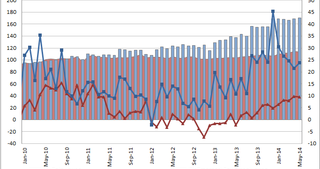 July 29, 2014 - HIGHLIGHTS
During the past year to May 2014, the production of transport equipment in Hungary expanded at an average rate of 25.3% year-on-year (YoY), compared to a mere 5.6% YoY average for all industries, as measured by the seasonally-and-working-day-adjusted industrial production indices.
Machinery and transport equipment generated a solid 53.3% of all export revenues for the country during 2012-13. The export of road vehicles grew in significance within the sector, comprising 23.1% of all machinery and transport equipment exported in 2013 and compensating for the sharp decline in telecommunication equipment exports since 2011.
Rising investment inflows for motor vehicle production, mainly from German auto producers in Hungary, have translated into increased export sales of transport equipment. Year-to-date export sales reached USD 2.3 billion in May, exceeding pre-crisis levels. The real orders index, measuring the value of outstanding orders at the end of the respective period relative to the same period of the previous year, indicates robust growth of export orders since 2011. Domestic orders growth has also picked up since the beginning of 2014.
The auto manufacturing industry's expansion has positive spill-over effects on other aspects of the Hungarian economy, such as employment generation and wages. Since the third quarter of 2011, employment in transport equipment manufacturing has surpassed what was until-then the second highest employment generating segment within the manufacturing industry: computer, electronic and optical products. As of the end of the first quarter of 2014, 127,000 people were employed in producing transport equipment, representing a 46.4% increase compared to the same period only three years ago, and marking the most pronounced growth among the various types of manufacturing process. Gross average wages in transport equipment production displayed close to 20% growth for the same period, making it the fourth best paid manufacturing segment in Hungary, only exceeded by petroleum, pharmaceutical and chemical production.
Discuss this post
and many other topics in our
LinkedIn Group
(you must be a LinkedIn member to participate). Request a
Free Trial Subscription
.
Back to Blog