GEM Newsletter: Pre- and Post-Crisis Energy Production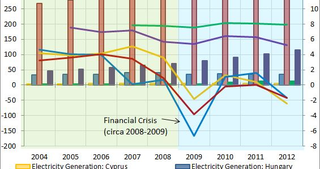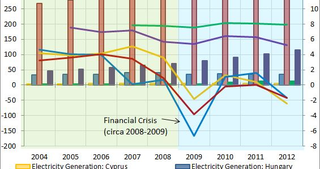 July 24, 2014 - Global Economic Monitor/WorldTrend Database:
The 2008-2009 global financial crisis resulted in some interesting changes in energy production trends. While many countries saw electricity production rise for several years leading up to 2008, some of these countries now seem unable to maintain the high capacity utilization of their plants since the crisis. Hungary, for one, experienced average energy production growth of 3.3% during 2003-2008 with a peak production of 40,026 GWh in 2008 (coinciding with 2.7% Real GDP growth). However, between 2008 and 2012, the trend reversed with energy production declining by an average of 3.6% annually (corresponding to a 1.4% contraction of Real GDP). Similar trends were observed in Cyprus, Spain and several other countries in Eastern and Southern Europe, badly affected by the global crisis and the fiscal austerity required to ameliorate the situation. However, these trends were hardly universal with countries like Laos, Myanmar and Vietnam instead seeing an increase in Energy Production during 2008-2012. Energy production grew by 12.6% and 12.8% in Myanmar and Vietnam respectively, with historical maximums for electricity generation of 12,542 GWh and 114,841 GWh respectively during the last reported periods (2013 and 2012 respectively). However, this was overshadowed by Laos with its yearly average Energy Production growth of 47.5%, largely attributable to the exceptional growth in electricity production (of 143.46% year-on-year) during 2010 and supported by the sustained high GDP growth rate in excess of 7.5% since 2007.
GEM HIGHLIGHTS
Bank of Mexico reduced its main interest rate to a record low 3% in June, following three downward adjustments in 2013.
After decreasing for six consecutive quarters, South Africa's Household Debt stood at USD147.1 billion as of the end of March 2014, its lowest value since mid-2009.
EU countries recorded positive Retail Trade growth in April 2014, including Greece at 7.3% YoY, its best result since March 2010. The EU average rose by 2.8% YoY – its highest increase since April 2007.
China's domestic credit is among the highest in Asia. In May 2014, it recorded 16.45% YoY growth.
UK house prices growth is on an increasing trend with June 2014 growth at 11.88% YoY.
Discuss this post
and many other topics in our
LinkedIn Group
(you must be a LinkedIn member to participate). Request a
Free Trial Subscription
.
Back to Blog