Indonesia's Aviation Sector Shows Promise Despite Challenges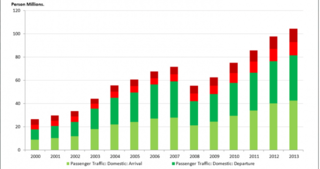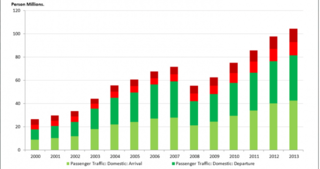 CEIC Indonesia Data Talk - July 22, 2014
As an archipelago, Indonesia has more than 17,000 islands, creating a fertile ground for the aviation industry to expand its business on both domestic and international routes. The number of passengers on domestic routes was 81.38 million in 2013, which was 6.3% higher year-on-year (YoY) compared to 76.54 million in 2012, according to the Central Bureau of Statistics. Total passengers on international routes also rose by 9.06% YoY, its sixth consecutive increase since 2008, culminating in total passengers of 23.03 million in 2013. The development of the aviation industry in Indonesia has seen the entrance of foreign airlines to compete for domestic business; they include Tigerair (maintained under Singapore Airlines Engineering Company) and AirAsia (owned by Malaysia-based AirAsia Berhad). In addition, with more affordable ticket prices and availability of auxiliary services offered by each airline, this has prompted an increasing preference towards the use of air transport. The highly competitive landscape of the aviation industry in Indonesia has pressed national and international airlines to enhance their capacities and facilities in order to survive in the industry. These include adding to their fleets in order to accommodate increasing demand for flights. Better route network have increased the ease of transport to reach areas or islands previously more remote in Indonesia, and also overseas. Unfortunately, at the same time the commercial aviation industry has also become a victim of its rapid expansion. The airport infrastructure, including runways, maintenance facilities and availability of skilled aviation personnel, has not kept pace with the increase in passenger capacity, leading to overcrowded terminals, disrupted flight schedules, and other problems. The boom in the aviation industry and the large number of airlines operating in Indonesia has been driven in part by a colossal 252.16 million population (as of 2014) which rose by 1.34% compared to that of the previous year. Furthermore, the higher monthly average wage has contributed positively to the industry's growth as purchasing power improved in general. In 2013, the monthly average wage rose by 16.33% YoY to IDR1.67 million from IDR1.44 million in 2012.
Indonesia's aviation industry is still expanding and the archipelago's geographic nature gives it a natural advantage over road and rail. However, more investment is needed to expand existing airports, add new airports, ensure sufficient experts are employed, establish appropriate regulations and develop the various facilities to make it a world-class industry. In the meantime, an increase in passenger level is expected over the long weekend of July 2014 and Eid al-Fitr, Moslem Holiday in August, reversing the prior decline between March and April 2014 when total passenger capacity through the five main airports slumped to 7.41 million persons in April 2014 from 8.07 million persons in March 2014.
By Yudha Prawira
- CEIC Analyst
Discuss this post
and many other topics in our
LinkedIn Group
(you must be a LinkedIn member to participate). Request a
Free Trial Subscription
.
Back to Blog