GEM Newsletter: Is Healthy Credit Growth Sustainable in Oil and Gas-Dominated Economies?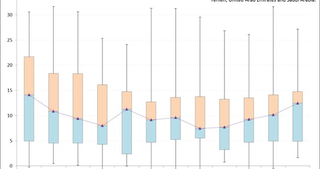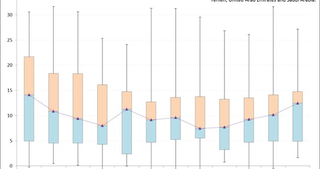 Global Economic Monitor - WorldTrend Database, June 26, 2014 -
In contrast to the negative credit growth observed in Europe since the start of 2013, credit markets in many emerging economies have continued to enjoy healthy growth, despite the threat of a potential slowdown from the tapering of the US Federal Reserve Board's bond-purchase programme. Among the emerging markets, countries in the Middle East and North Africa (MENA) have achieved some of the most impressive domestic credit growth rates. Predominately the oil and gas exporting economies – Bahrain, Saudi Arabia and Yemen – recorded average year-on-year domestic credit growth rates of 10.3%, 15.8% and 28.8% respectively in 2013. This is attributable to the strong credit demand for non-oil activities, for example spending on public infrastructure. Vigilant management of key macroeconomic risks that could impair credit demand, i.e. oil prices volatility, the reliance on oil trade revenue to stimulate consumption, as well as employment diversification to non-oil industries, is key to sustaining healthy credit growth.
GEM Highlights
Hungary's economy is gaining momentum. Its year-on-year (YoY) Real GDP Growth Rate hit a seven-year high of 3.2% in Q12014, while its Unemployment Rate fell for a fourth consecutive quarter to 8.3%, to reach its lowest point since Q42008.
Due to a sales tax increase from 5% to 8% in April, Japan's Consumer Price Index surged by 3.4% YoY in April 2014. A 10th month of positive CPI growth may suggest that Japan has overcome chronic deflation.
In 2013, Lithuania's fiscal indicators had met the conditions required for entering the eurozone in January 2015. Both its Consolidated Fiscal Balance and Government Debt declined to -2.2% and 39.4% of Nominal GDP, respectively, fulfilling the required Maastricht criteria.
Among Latin American countries, Uruguay recorded the largest YoY Imports plunge of 19.5% to USD 798.2 million in April 2014.
Malawi's Equity Market Index rose in May 2014 for the 19th consecutive month to an all-time high of 13,233.53 points.
Turkey's YoY GDP Deflator Growth soared to 10.1% in Q12014. This was the first double-digit annual growth in five years.
Discuss this post
and many other topics in our
LinkedIn Group
(you must be a LinkedIn member to participate). Request a
Free Trial Subscription
.
Back to Blog