Yen Surges as Bank of Japan Remains Passive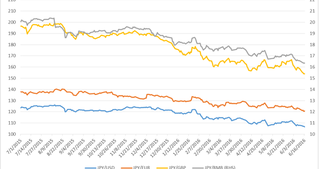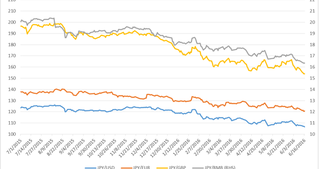 CEIC Gallery/Markets section - June 17, 2016 Summary The Yen surged to the strongest since September 2014 against the dollar after the Bank of Japan (BoJ) refrained from adding any stimulus that could slow its advance. The Japanese Yen has gained more than 12% against the USD since the beginning of the year. In May the Yen reached a 20-month high against the dollar, after the BoJ introduced negative interest rates in line with its extraordinarily easy monetary policy and now we see another peak. Since January the Yen has appreciated about 17% against the Chinese Yuan, 18.5% against the Euro and 19.4% against the British Pound.
Latest economic data shows core inflation falling 0.3% year-on-year in April, way beyond the BoJ target rate of 2%. Real GDP growth stood virtually at zero in the first quarter of 2016 as private domestic investment stayed at the same level as last year and private consumption growth remained in negative territory.
More data and dynamic charts related to the topic are available in the CEIC Gallery: "Foreign Exchange Market" and "Abenomics" Discuss this post and many other topics in our LinkedIn Group (you must be a LinkedIn member to participate). Request a Free Trial Subscription. Back to Blog