What is China's Labor Market Data Telling us?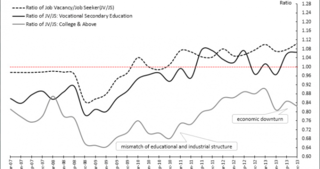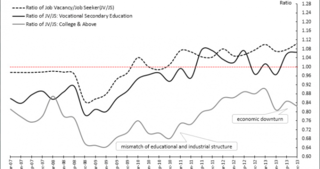 CEIC China Data Talk - April 17, 2014
What is China's labor market data telling us? It is not an easy-to-answer question. Let us take a look at one of the data sets in the City Labor Market Survey. The data actually tells us that:
Low-tech industries are still occupying a large portion of China's economic structure.
China's economy is going downhill.
Specifically, we are looking at the ratio of the number of job vacancies to the number of job seekers in the City Labor Market Survey. The ratio has remained above 1 since Q4 2010, showing a favorable situation in the labor market – enterprises are thirsty for talents at a higher degree than candidates looking for positions. However, if we look into more details:
There is a higher demand for labor with a vocational secondary education level which in turn, contributed to the above-1 vacancy-to-job-seeker ratio in this particular group of the labor market. This reveals that the economic structure in China still is highly concentrated in low-tech manufacturing and services.
Since Q2 2013, enterprises' demand for labor having a college or above education level is less than the supply. This not only shows a mismatch of the educational and industrial structure, but also an economic downturn. Enterprises are not willing to hire higher-level positions with a large amount of compensation, during a possible recession.
You may want to unearth more clues from the data and come up with your own interpretation and explanation.
Contributed by the China Database Team
Discuss this post
and many other topics in our
LinkedIn Group
(you must be a LinkedIn member to participate). Request a
Free Trial Subscription
.
Back to Blog