Weak South African Rand: Risk To Inflation, Opportunity For Exports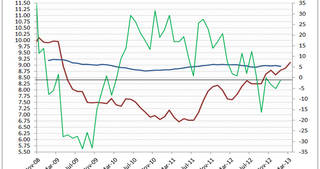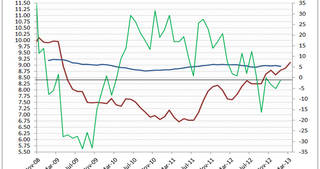 Macro Watch:
The South African Rand's (ZAR) depreciation that started in early 2012 continues to be more pronounced since the beginning of March 2013. Although the South African Reserve Bank considers it to be a temporary trend, this development could have far-reaching effects on the country's inflation, foreign trade, labour costs and flows of funds, among other indicators of economic health. The rand depreciated beyond the ZAR 9/USD exchange rate level towards the end of January 2013, and besides the slowdown during February, it hit ZAR 9.2442/USD in mid-March, its lowest since April 2009. This is contrasted by the steady appreciation of the South African currency observed between early 2009 and the end of 2010, which provided a small reprieve for inflation. The two indicators tend to be inversely correlated; when the rand appreciated from April 2009 to December 2010, year-on-year consumer price inflation fell from 8.41% to 3.48%. However, the devaluation of the ZAR has since resulted in an increase in inflation; after June 2011 inflation averaged 5.64%, alarmingly close to the ceiling of the South African Reserve Bank's targeted inflation range of 3% to 6%. Despite the slight slowdown in consumer price inflation this January to 5.36%, the recent currency depreciation will inevitably have an impact on the inflation rate in the coming months. On the positive side, South Africa's exports have benefited from increased external demand due to the cheaper rand. Export growth in 2011 averaged a modest 18.44% year-on-year per month compared to the 34.15% average monthly year-on-year gain in 2008 when the rand suffered critical lows. Even though after the third quarter of 2012 the rand has persistently been falling towards its 2008-2009 values of over ZAR 8.5/USD, this has not significantly boosted exports. Exports have actually declined slightly since September last year, suffering a 2.79% loss on average during the fourth quarter of 2012 and a further 1.34% year-on-year loss in January 2013. This is mainly due to the drop in earnings from natural resources, such as mineral products, natural pearls and precious metals that consistently bring in over 45% of South African export revenues. The labour force strikes in the mining industry, which began in August 2012 and caused a steep decline in production levels, consequently led to a decline of close to a quarter of export revenues from these otherwise stable goods in September 2012 compared to the same month the year before.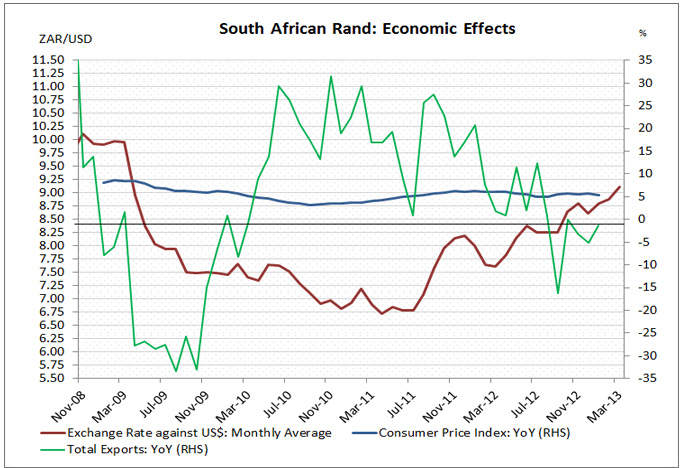 The volatility of the rand is similar to that of other major currencies like the British pound and the Japanese yen, which have suffered significant devaluations in recent months. The constant money supply increases throughout 2011 and 2012, averaging 6.25% and 6.71% year-on-year respectively, aggravated the currency depreciation and increased inflation pressure in South Africa. As a trade-dependent economy, South Africa could scarcely afford further currency fluctuations.
Discuss this post
and many other topics in our
LinkedIn Group
(you must be a LinkedIn member to participate). Request a
Free Trial Subscription
.
By Iveta Jordanova in Bulgaria - CEIC Analyst
Back to Blog