United States Wealth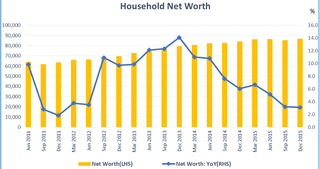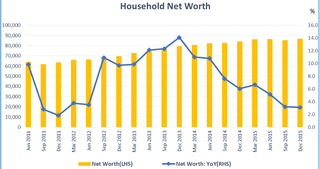 CEIC Gallery/World Economy/Global Database - March 25, 2016
Summary
Net worth of the American households has increased by USD 2.7 trillion (3.1%) in 2015 to USD 87.8 trillion. Despite the increase, this was the slowest annual growth of American families' net worth since 2011. The low households' net worth is mainly due to a slowdown in assets growth compared to 2014. In 2015 the assets held by the households have increased by 3%, while the annual growth in 2014 was 5.6%. On the other hand, the slowdown in liabilities growth has been negligible – from 2.8% in 2014 to 2.4% in 2015. The main reason for the assets growth slowdown in 2014 was the substantial slowdown of financial assets growth. Equity and investment shares, which comprises the largest share of the total household assets, has grown by 0.8% in 2015 after 8.8% in 2014 and 23.9% in 2013. Insurance and pension assets held by the American households have increased by 1.9% after 3.9% in 2014. Net worth growth of the nonfinancial noncorporate business has also slowed down in 2015 compared to the previous year. In 2015 the difference between the noncorporate assets and liabilities was USD 10.8 trillion or 5.6% more compared to the previous year. In 2014 the annual growth was 6.9%. In contrast, the corporate business' net worth has improved last year. In 2015 the net worth of the US nonfinancial corporations was USD 1.2 trillion, which has been the first positive net worth since 2012. Despite the corporate assets growth has slowed down in 2015, the improvement of net worth has been due to an annual decreased of USD 340 billion in corporate liabilities.
Households and NPISH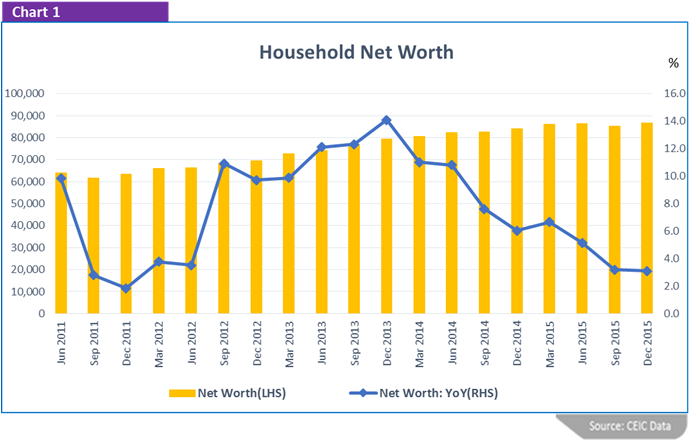 Households' financial assets have increased to USD 70.3 trillion in 2015, of which USD 33.2 trillion of equity and investment fund shares and USD 23.3 trillion of insurance and pension assets.
Real estate, comprising more than 80% of the households' nonfinancial assets, has increased to USD 25.3 trillion in 2015 from USD 23.7 trillion in 2014.
Household loans have increased to USD 14 trillion or the highest level since mid-2008, of which USD 9.7 trillion of mortgages and other long term loans and USD 4.3 trillion of short term loans.
Currency and deposits held by American households have increased from USD 9.1 trillion in 2014 to USD 9.6 trillion in 2015.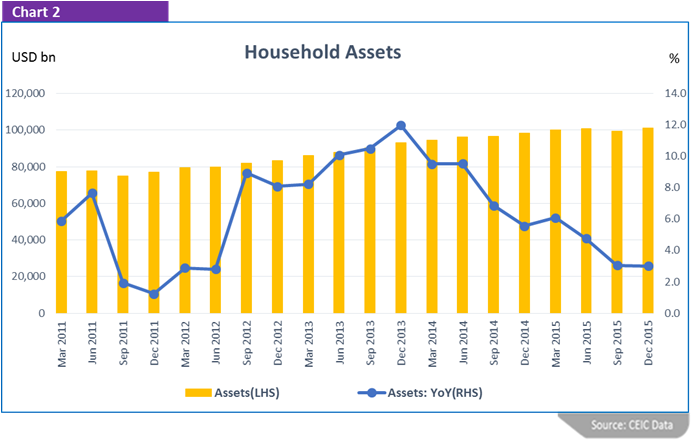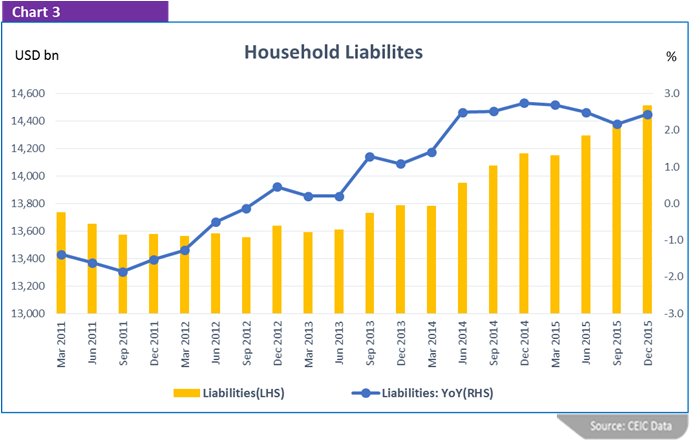 Household Assets

Household Liabilities

Discuss this post
and many other topics in our
LinkedIn Group
(you must be a LinkedIn member to participate). Request a
Free Trial Subscription
.
Back to Blog