Tax Reduction Breathes New Life into Brazil's Automotive Sector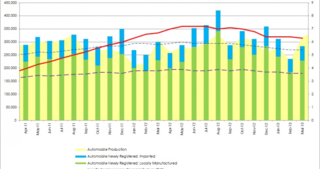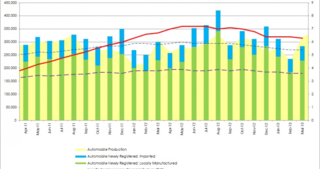 CEIC Brazil Data Talk:
Total automobile production has risen in Brazil, despite the weak overall performance of the manufacturing sector. The National Association of Automobile Manufacturers reports the assembly of 340.87 thousand motor vehicles during April 2013 compared to 260.83 thousand during the same month of the previous year. Automobile production grew across almost all vehicle types; production of light passenger cars grew by 25.73% year on year during April 2013, while production of trucks grew by a staggering 56.53% year on year. The recent resurgence in automobile production saw its associated (seasonally-adjusted) industrial production index (IPI) for vehicle manufacturing increase for a third consecutive month, by 4.70% on a year-on-year basis during March 2013. This compares favourably to a mere 1.01% growth in the overall IPI or 1.66% in the manufacturing sector IPI. However, cautious optimism may be in order in light of the sharp decline in the automotive sector during 2012 distorting year-on-year computations. Changes in the automotive-specific IPI also tend to be more volatile compared to the overall manufacturing production index. The government has nonetheless hailed the resurgence as a sign that its stimulus policies in the automobile sector are starting to bear fruit. Chief among these policies include the reduction of the tax on industrial production specific to automobile sales sourced locally. Originally a three month policy designed to support the automotive sector, the government has repeatedly extended it in a bid to boost automobile sales. Presently, the reduction is scheduled to end only in December 2013. As a result, automobile registrations (post-sales) have seen double-digit growth spurts in some months from June 2012 to April 2013, in comparison with year earlier levels. New automobile registrations surged by 29.41% year on year during April 2013, after declining by approximately 6% year on year in both February and March 2013. Interestingly, while the reduction in tax was mainly targeted at locally manufactured cars (or cars largely manufactured in Brazil), imported vehicles saw a substantial 15.44% growth in vehicle registration during April 2013 (though the registration of locally manufactured motor vehicles grew by 33.50%).
Thus far, the reduction in the tax on motor vehicle production has seen annual taxation revenue from motor vehicle taxes decline to BRL4.13 billion during 2012 from BRL6.98 billion during 2011. However, in light of the relatively small contribution of these taxes to overall taxation revenue (they account for less than 1% of overall federal taxation revenues) and its crucial role in averting further decline in the automotive sector, as evidenced by rising new automobile registrations, this tax incentive is an effective fiscal tool in helping to boost the economy. However, the increase in automobile sales has inevitably put the spotlight on non-performing loan growth, which remains fairly high for automobile credit relative to overall household lending. Non-performing loans from vehicle financing stood at 6.3% of the total loan portfolio as of March 2013, compared to the 5.4% non-performing loans of households. Fortunately, growth in motor vehicle loans slowed considerably to 5.5% year on year as of March 2013 (amounting to BRL192.87 billion outstanding loans), its lowest growth rate since August 2009 as banks adopt a more conservative loan policy in response to credit risks. The Brazilian Central Bank believes that there is room for non-performing loans to decrease in the coming months. Despite these risks, the Brazilian administration has signalled its commitment towards propping up the automobile sector, especially given its status as one of Brazil's flagship manufacturing industries and its role as a major employer due to its expansive production chain. As such, given that the tough economic climate may persist in light of the tepid recovery in Europe and the United States, it remains to be seen if the tax reduction on motor vehicles will be lifted by December 2013.
Discuss this post
and many other topics in our
LinkedIn Group
(you must be a LinkedIn member to participate). Request a
Free Trial Subscription
.
By Bruno Vasconcelos - CEIC Analyst
Back to Blog