Sustained Fiscal Deficit in Argentina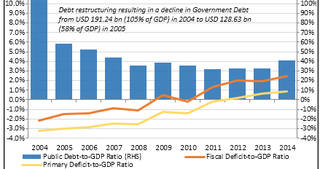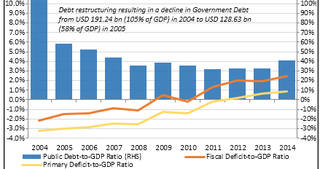 CEIC Macro Watch Global #46 - July 31, 2015
Argentina has been incurring increasingly larger fiscal deficits for many years. In 2014 the fiscal deficit-to-GDP ratio rose to 2.5%, its fourth consecutive year in deficit, rising from 0.51% in 2009. The persistent deficit is in contrast to its fiscal position back in 2010 and all the years between 2003 and 2009 when the government maintained fiscal surpluses.
The widening fiscal gap has been mainly driven by consistently high government spending growth compared to its revenue. Total expenditure grew by 44.8% year-on-year (YoY) during 2014 to ARS 1.1 trillion while total revenue grew 42.5% to ARS 1.0 trillion. Consequently, Argentina's government debt rose to 40.9% of GDP (USD 221.7 billion) in 2014, its highest level since 2007, increasing steeply from 32.6% of GDP in 2013. Although Argentina's fiscal problems are not as acute as they were during previous episodes of default, the continuous deficit spending and rising level of debt is considerably alarming given its history of debt restructuring. In addition, Argentina's primary deficit – a narrower fiscal measure excluding interest payments on government debt – rose for the third consecutive year to ARS 8.6 billion (0.88% of GDP), further fuelling concerns over Argentina's ability to service its debts.
By Darlene Tamayo in Philippines - CEIC Analyst
Discuss this post
and many other topics in our
LinkedIn Group
(you must be a LinkedIn member to participate). Request a
Free Trial Subscription
.
Back to Blog