Surprising Surge of Retail Sales in the European Union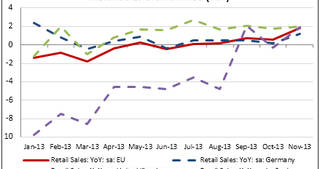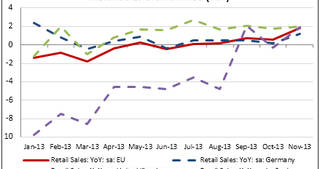 CEIC Macro Watch - January 30, 2014 -
Retail sales in the European Union (EU) rose at their fastest pace in almost six years during November 2013. The seasonally-adjusted retail trade volume index (RTI) surged 1.84% year-on-year (yoy), recording its largest rise since February 2008. Moreover, November was the fifth consecutive month when the growth of the RTI in the member states remained in positive territory - the longest consecutive streak since mid-2010.
This was driven, not only by large economies like Germany (1.19%), the United Kingdom (1.97%) and Spain (1.90%), but also by smaller member-states such as Poland (7.27%), Estonia (7%), Bulgaria (6.51%) and Latvia (5.05%). Furthermore, the rise in the EU-28 was broad-based – sales of food products, beverages and tobacco increased by almost 1% yoy, while retail sales of non-food products excluding car fuel surged by 3.21% yoy.
By Kamen Parushev in Bulgaria - CEIC Analyst
Discuss this post
and many other topics in our
LinkedIn Group
(you must be a LinkedIn member to participate). Request a
Free Trial Subscription
.
Back to Blog