Stronger Yen Disrupts Japan's Exports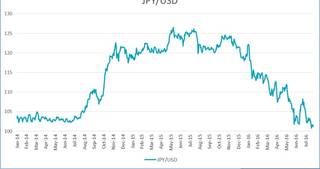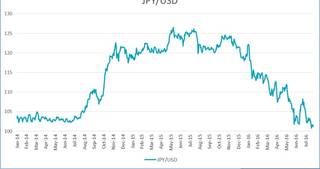 CEIC Gallery/Hot Topics - August 25, 2016 The Japanese Yen has surged about 20% since the beginning of the year driving country's exports to a 10-month slump. In July exports declined 14% year-on-year, recording the biggest fall since 2009. This prolonged slump highlights the difficulties of the world's third biggest economy to return on growth path. Declining exports have been a burden on Japan's growth, with net exports cutting 0.3% off gross domestic product in the second quarter.
The Yen has been strongly appreciating against the US dollar since the start of 2016. In May the Bank of Japan (BoJ) introduced negative interest rates in line with its extraordinarily easy monetary policy. The central bank remain passive in June, but announced a new wave of monetary stimulus in the end of July. The expanded quantitative easing programme will be accompanied by USD 265 bn fiscal stimulus package in attempt to reflate the economy.
Latest economic data shows deflation of 0.4% in June, way beyond the BoJ target rate of 2%. Real GDP growth increased to 0.6% year-on-year in the second quarter of 2016 as private consumption and investment growth returned to positive territory. More data and dynamic charts related to the topic are available in the CEIC Gallery: "Bank of Japan Monetary Policy" and "Abenomics" Discuss this post and many other topics in our LinkedIn Group (you must be a LinkedIn member to participate). Request a Free Trial Subscription. Back to Blog>Summary