Speeding Up Private Investment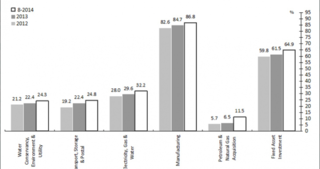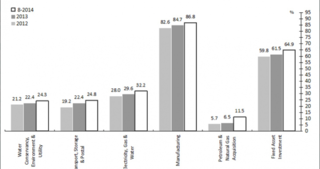 CEIC China Data Talk - October 20, 2014
What is the share of private investment in the whole economy? How large is its contribution? And what kind of status is it enjoying in the Chinese economy? If we estimate using the figures published by the NBS, private fixed asset investment amounts to about 64.9% of the total fixed asset investment for the first 8 months of this year. However, the status of these private investments is not equal to that of their public counterparts, unless the existing state-owned industries can be more open to private capital injection and that such private capital receives the same fair treatment.
Yet, the above idea is not practical in reality. From the historical point of view as well as from our practical experience, the institutional structure of existing state-owned enterprises and the current economic situation cannot facilitate the quick flow of large amounts of private capital into the market. It takes time for private enterprises to accumulate the related operational experience and prepare for more social responsibility. Then how is the amount of private investment being presented in China's statistical data? Since 2012, NBS started publishing the private investment figures. Private investment was 59.8% of the total investment amount in 2012. Although the government advocates "Public shrinks, Private advances", it is in reality "Public advances, Private shrinks". The private investment in 2013 was 61.5% of total investments and stayed at 64.9% for the first 8 months of this year. From the prospective of individual industry structures, the growth rate of some industries with a high barrier to entry for private enterprises accelerates significantly. These industries include petroleum and natural gas acquisition, electricity, gas and water supplies, and transportation. Would this be an indication that more support from the local governments and less administrative interventions are needed to genuinely activate the role of private investments? Perhaps simultaneously providing direction to both policy-setting and supervisory procedures is needed in order to truly open the door to private enterprises?
By the China Database Team
Discuss this post
and many other topics in our
LinkedIn Group
(you must be a LinkedIn member to participate). Request a
Free Trial Subscription
.
Back to Blog