South Africa's Terms of Trade Aggravate Inflation Woes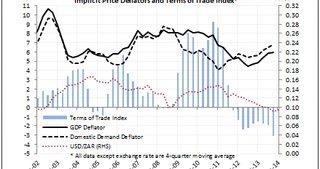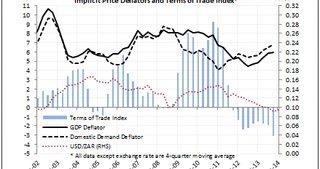 CEIC Macro Watch Global #34 - July 30, 2014:
The monetary policy committee of South Africa's Reserve Bank (its central bank) decided to raise the repo rate by 25 basis points, up to 5.75%, effective of 18 July, in an attempt to tame the persistently high inflation, largely caused by the depreciating Rand. The latest data show the consumer price index (CPI) increasing by 6.63% year-over-year in May. The expected inflation rate one year ahead is 6.1%, according to the survey conducted by the Bureau of Economic Research during the second quarter of the year. Both readings exceed the central bank's 6% upper limit of the CPI target band.
The dynamics of the implicit Gross Domestic Product (GDP) deflators reveal that import prices may be a significant factor behind the most recent increase in the general price level. The decline in the terms of trade index – the ratio between the price of exports and the price of imports – since the beginning of 2012 has resulted in a larger growth of the domestic demand deflator relative to the overall GDP deflator. In the first quarter of 2014, the year-on-year decline in the terms of trade stood at 4.9%, while the GDP deflator and the domestic demand deflator increased by 5.96% and 7.3% respectively. Given the relatively open nature of South Africa's economy, high import prices, coupled with the weak Rand, are expected to have sizeable pass-through effects to domestic prices.
By Stoyan Kiryazov in Bulgaria - CEIC Analyst
Discuss this post
and many other topics in our
LinkedIn Group
(you must be a LinkedIn member to participate). Request a
Free Trial Subscription
.
Back to Blog