Rising Stock Market Indices in Central Asia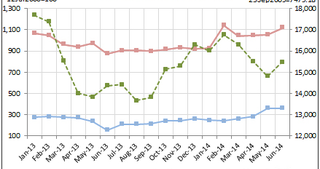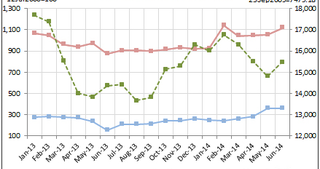 CEIC Macro Watch Global #34 - July 30, 2014:
Stock Exchange Markets in Central Asia have enjoyed increased optimism in recent months. The highest growth on a monthly basis was achieved in Kazakhstan where the local market surged 6% in June 2014 compared to May. On an annual basis the Kazakhstan Stock Exchange Index (KASE) increased by 28.2% and since the beginning of the year it has climbed 22.1%. The sustainable growth KASE has achieved can be attributed to successful monetary policy stabilising the currency and stable economic growth in the country, although the slowing growth in Russia, Kazakhstan's major trading partner, has had considerable negative effect on the country.
The same trends are observed on the Kyrgyz Stock Exchange, which increased by 134.1% on an annual basis in June and is 22.1% higher since the beginning of the year. The staggering annual growth is due to the fact that in June 2013 a huge dip in the stock exchange occurred. The Mongolian Stock Exchange (MSE), on the other hand, has fallen 5% since the beginning of the year though growth has resumed in recent months and in June 2014 the MSE rose by 4.6% on a monthly basis.
By Petar Chavdarov
- CEIC Analyst
Discuss this post
and many other topics in our
LinkedIn Group
(you must be a LinkedIn member to participate). Request a
Free Trial Subscription
.
Back to Blog