Revival of Consumer and Business Expectations in Spain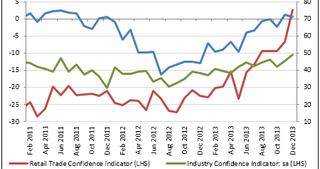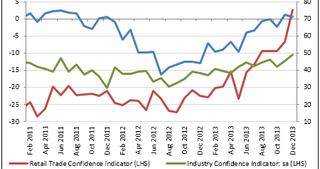 CEIC Macro Watch - January 30, 2014 -
The end of 2013 was marked by reviving business and consumer confidence in Spain, reflecting a slight improvement in its economic fundamentals. The seasonally-adjusted industrial confidence indicator, reported by the Spanish Ministry of Industry, Energy and Tourism, is the most representative benchmark for monitoring the country's overall business environment. It represents the overall attitude of business managers towards several operational variables such as order books, finished products and the expected trend in production. The indicator improved to -10.5% in December 2013, increasing by five percentage points compared to the same month of the previous year. Even though it is still in negative territory, the industrial confidence indicator marked out a stable upward trend over the year.
The main driver has been the consumer goods industry, an indicator that reached -4.3% at the end of the year and is proving to be the most optimistic of all the manufacturing industries, having risen by nine percentage points on a year-on-year (yoy) basis. The investment and intermediate goods sectors also registered a slight increase, but were still negative at -13.3% and -14.6% respectively in December 2013. In contrast, the retail trade confidence indicator managed to rise above zero to 2.6%, following a rapid improvement during the last months of 2013. The consumer confidence indicator also increased during the second half of 2013, and in December settled at 71 points, still below the break-even level of 100 points (a score below 100 denotes more negative consumer expectations, and one above 100 represents a larger number of optimistic consumer survey responses). The increasing level of confidence among consumers and businesses is a common trend in the European Union (EU), which can be attributed to expectations of a gradual economic revival in 2014 and presumably an improvement in observed trading conditions. Where Spain is concerned, the business sector has become more confident due to a rise in exports stemming from the positive growth figures of major trading partners such as Germany. Seasonally-adjusted exports in Spain peaked at EUR 20 billion in October 2013, increasing by 3.7% compared to the previous month and by 2% yoy. Huge increases in exports of consumer goods and final industrial products can explain the increasing confidence levels in those industries. Another major reason on a Europe-wide level that influences business perceptions in Spain is the growth of retail sales within the Union. In November 2013 the seasonally-adjusted retail sales in the EU increased by an unprecedented 1.8% yoy. Such economic developments lead to increasing confidence in future production levels and sales figures. Although the unemployment rate in Spain was still high at 26%, and real GDP growth sluggish at -1.1% yoy during the third quarter of 2013, signs of positive developments are being observed. However, the gradual economic recovery of the deeply troubled Spanish economy has to come a long way to restore the country back to health and its GDP back up to pre-crisis levels.
By Petar Chavdarov
- CEIC Analyst
Discuss this post
and many other topics in our
LinkedIn Group
(you must be a LinkedIn member to participate). Request a
Free Trial Subscription
.
Back to Blog