Resumed Production to Reinvigorate India's Steel Sector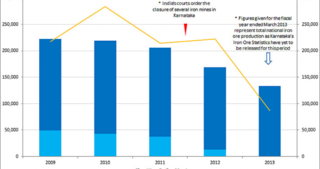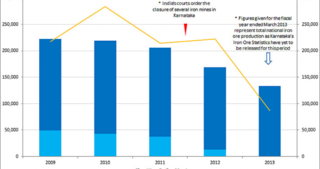 CEIC India Data Talk:
Following relaxation of an iron mining ban in the state of Karnataka, the outlook on India's iron ore production has continued to improve. Previously, a spate of corruption-related scandals resulted in blanket closures of several iron mines in Karnataka between July and August 2011 and several other smaller mines (most notably in Goa) which are also in breach of environmental protection acts.
These closures directly reduced the country's overall iron ore supply given Karnataka's position as one of India's largest iron mining states. Karnataka produced 43.25 million tons and 37.45 million tons of iron ore during the fiscal years that ended March 2010 and 2011 respectively, corresponding to the national iron ore production of 218.90 million tons and 205.65 million tons respectively. Following the closures, the iron ore production in Karnataka declined to 13.20 million tons as of the fiscal year that ended March 2012, corresponding to national production of 168.53 million tons during the same period. Reduced iron ore production has been crippling various stakeholders both within and outside the steel and iron production chain. Karnataka's mining sector saw its revenues nearly halved by the closures. The total value of iron ore production plunged to INR 29.71 billion during the fiscal year that ended March 2012 from INR 61.44 billion during the previous fiscal year; iron constitutes approximately 75% to 90% of Karnataka's total mining production in value terms. While national iron ore export revenue rose marginally to INR 221.84 billion during the fiscal year that ended March 2012 from INR214.16 billion during the previous fiscal year, export revenues subsequently plunged to just INR 87.08 billion during the fiscal year that ended March 2013. Indeed, iron-ore dependent industries, such as the steel and iron processing industry, had to resort to increased imports to accommodate the overall reduction in iron ore production. Bulk imports of metalliferrous ores and metal scraps surged from INR 442.17 billion during the fiscal year ended March 2011 to INR 641.30 billion and INR 815.18 billion during the fiscal years that ended in March 2012 and 2013 respectively. Scarcer iron ore availability threatens to erode the already relatively low profitability margin for India's steel processing industry, in particular pig-iron production (a higher carbon form of iron with more limited applications). The court's relaxed stance on these scandal-ridden mines is certainly good news for industry participants. However, the improved outlook should be approached with caution. In spite of the much-awaited reprieve for the nations' iron and steel production sector, administrative, legal, technical and other operational issues mean that the sector may take up to several months, if not years, to fully recover.
Discuss this post
and many other topics in our
LinkedIn Group
(you must be a LinkedIn member to participate). Request a
Free Trial Subscription
.
By Chan Yee Lui - CEIC Analyst
Back to Blog