Poor Performance in the Automotive Sector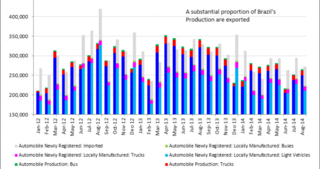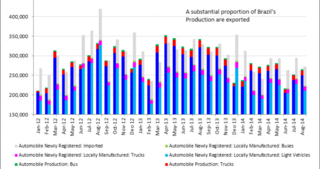 CEIC Brazil Data Talk - October 2, 2014
With a total fleet of some 46 million vehicles, Brazil has one of the largest automobile markets in the world. However in recent months, Brazil's automobile sector has faced an adverse business climate. New automobile registrations (which is generally used as a proxy for automobile sales) decreased by 17.21% year-on-year (YoY) in August 2014 with a total of 272,492 thousand cars registered during the month. Of these, the bulk of the reduction occurred in cars registration, by 20.09% during the month to 193,767 units. Part of the decline is due to the overall economic downturn in Brazil as second quarter real GDP (seasonally adjusted) shrank by 0.6% compared to the previous quarter. Moreover, despite the Brazilian Institute of Geography and Statistics' (IBGE) upward revision of its first quarter estimates, GDP declined overall during the first quarter of 2014 by 0.2%, threatening a possible technical recession. Automobile exports decreased 50.6% on a YoY basis in August 2014; Passenger Cars as well as Light Commercial Vehicles decreased 44.2% and 70.1% respectively. It was the eighth successive YoY decline in automobile exports, with the year-to-date value falling by 37.96%, compared to the same period in 2013. The restrictions on imports adopted by the Argentine government were instrumental in this regard, as Argentina absorbs 75% of Brazilian automobile exports. However, according to industry experts, prospects are positive for the coming months, due to an extension of the bilateral agreement concerning duties and tariffs on car and autoparts trade.
Overall, automobile production has been decreasing since October 2013. As of August 2014, just 265,910 units were produced, a 22.4% YoY decline. This is consistent with the National Confederation of Industry (CNI) statistics showing a declining number of worked hours in the automobile sector which decreased in July 2014 for the fifth consecutive month, by 12.3% YoY. Similarly, stocks for the coming month are expected to be high with 121,400 units left in factories and 264,300 units at the dealers in August 2014. The declining number of labour hours, in particular, demonstrates the far-reaching impact of the present downturn in the automotive sector. The decline in the sector has led automakers to adopt some measures to adapt their production to market demand. These measures include temporary suspensions of employees' contracts, collective holidays and voluntary dismissal programmes. These measures seek to scale back inventory levels and minimize possible impact on employment levels in the sector. Overall, the number of people working in the automobile sector, (including vehicles and agricultural & highway construction machineries) amounted to 148,892 in August 2014, representing a 5.5% YoY reduction. The outstanding loans for financing vehicles have fallen consistently, to a total of BRL185.20 billion as of July 2014, a 4.5% YoY fall. The non-performing loans rate for vehicle financing is also decreasing, having shrunk 4.8% in July 2014, and is predicted by industry analysts to hover around 4.0% by the end of the year. Notwithstanding this, the automobile sector may be assisted by new macro-prudential measures to boost credit supply. The Brazilian Central Bank injected BRL 45 billion into the economy in July via new reserves requirements, and in August BRL 25 billion more. Moreover the Bank has been loosening controls for granting loans and relaxing regulations governing the financing of real estate and vehicles. These measures will aid the sector, but most of the effects will occur only in the long term, with the sector's prospect dependent on inflation trends and economy activity.
By Bruno Vasconcelos
- CEIC Analyst
Discuss this post
and many other topics in our
LinkedIn Group
(you must be a LinkedIn member to participate). Request a
Free Trial Subscription
.
Back to Blog