New Content and Features in CEIC India Premium Database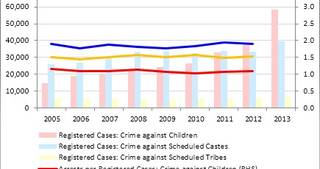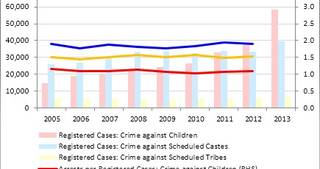 CEIC India Data Talk - September 16, 2014
In this issue of DataTalk we focus on Crime Statistics sourced from the National Crime Records Bureau (NCRB). The dataset covers a broad range of criminal activities as defined by the Indian Penal Code (IPC), the Special and Local Laws (SLL) and other specialised crime statistics, including crime against certain groups such as Children, Scheduled Castes and Scheduled Tribes.
Crime statistics from the IPC are further broken down into various categorizations and sub-categorizations under crime against body, crime against property, crime against public order, crime against women, economic crime and other crime. Crimes under the SLL are broken down by their specific Acts including the Arms Act, Dowry Prohibition Act, and Terrorist and Disruptive Activities Act, among others.
Disaggregation is available by crime conducted in the various States and includes both the number of cases registered and number of persons arrested.
The Crime Statistics are accompanied by auxiliary statistics, grouped under Memo Items, on the related legal and administrative infrastructures, including number of police, court conviction rates and expenses on prisoners, among others. An invaluable resource for sociological studies, the indirect cost of crime to the economy and the importance of well-defined legal infrastructure means that crime plays an increasingly important role in economic analysis.