Negative Economic Climate and Weak Euro Boost Tourism Sector in Europe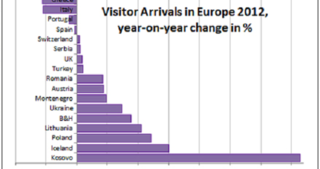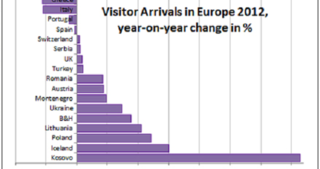 CEIC Macro Watch:
Overall, the tourism sector in Europe is growing despite the ongoing Eurozone crisis, mainly because of the increased intra-regional demand as European travellers seek low-budget trips in various parts of Europe. Moreover, the depreciating Euro has made travelling within the Eurozone cheaper for non-European tourists (e.g. from China and Japan).
In 2012 Central and Eastern European countries attracted more visitors compared to their Western counterparts. Visitor arrivals in Kosovo took the lead with an increase of 36.43% over 2011. Poland ranked third with 12.09% growth. Among countries in Northern Europe, Iceland (with 15% year-on-year growth during 2012), saw the highest increase in visitor arrivals. Unsurprisingly, some Southern European countries such as Spain, Portugal, Italy and Greece, registered a decline in visitor arrivals in 2012, mostly affected by economic turbulences and negative perceptions on social stability in these countries.
Discuss this post
and many other topics in our
LinkedIn Group
(you must be a LinkedIn member to participate). Request a
Free Trial Subscription
.
By Carena Liew in Malaysia - CEIC Analyst
Back to Blog