Motor Vehicle Sales Remain Strong Despite Adversities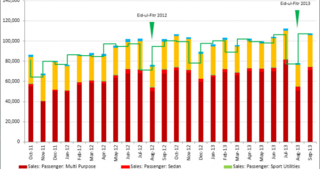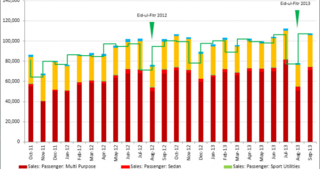 CEIC Indonesia Data Talk:
According to statistics from PT Astra International, one of Indonesia's leading automobile manufacturers, automobile sales in Indonesia rebounded in September 2013 to 115,921 units, after declining sharply to 77,961 units in August from 112,180 units in July. This coincided with a similar trend in motor vehicle production. Statistics by the Association of Indonesian Automotives (Gaikindo) reveal that automobile production increased to 107,085 units in September 2013, after declining to 77,310 units in August from 106,437 units during July. The rebound in automobile production occurred as the industry stepped up production after a seasonal decline in production and sales during August's pre-Eid-ul-Fitr celebrations; firms scaled down production towards and during the celebrations. Parallel statistics by Gaikindo, however, reveal an interesting trend amid the continued growth in motor vehicle sales. While they similarly revealed an overall improvement in motor vehicle sales during September 2013, sales growth was largely driven by increased sales of multi-purpose vehicles (particularly those with an engine capacity below 1,500 cc).
Motor vehicle sales remain relatively resilient despite the reduction in fuel subsidies during late June, which saw prices of premium fuel rise to IDR6,500/litre from IDR4,500/litre previously, while gas oil rose to IDR5,500/litre from IDR4,500 previously. Indeed, since December 2011, motor vehicle sales continued to grow (on a year-on-year basis) for 22 consecutive months, beginning in December 2011. This is, in part, attributable to producers adapting to prevailing energy concerns and moving towards the development (and sale thereof) of energy-efficient and environmentally friendly cars. The government has also seized the opportunity to promote the use of low-cost green cars (LCGC), with tax incentives. However, analysts expect car sales volume to moderate in the near future as higher fuel prices start to weigh on consumers' purchasing decisions – at present, the transition to energy efficient and green technology entails increased initial costs to buyers. These costs are compounded by the depreciation of the Indonesian Rupiah (to IDR11,613/USD as of September 2013 from IDR9,802/USD during May 2013) – leading to an increased cost of vehicles (for imported models) or at the very least in the prices of foreign-sourced automobile parts and components. Finally, the central bank (Bank Indonesia, BI) is expected to continue monetary policy tightening as it seeks to rein in inflation to manageable levels. The government has raised the BI rate four times since May 2013, from 5.75% as of May to 7.25% as of September 2013. With the rise in borrowing rates, this is expected to raise consumers' cost of financing their vehicle purchases. Despite the relatively pessimistic outlook on automobile sales, the present increase in Indonesia's motor vehicle sales has been strongly linked to Indonesia's overall success in fostering the growth of its middle class population. Indeed, the continued growth in car sales suggests that household consumption remains relatively strong despite other signs of weaknesses in its economy.
By Meytha Wendharti
- CEIC Analyst
Discuss this post
and many other topics in our
LinkedIn Group
(you must be a LinkedIn member to participate). Request a
Free Trial Subscription
.
Back to Blog