Metal Price and Trend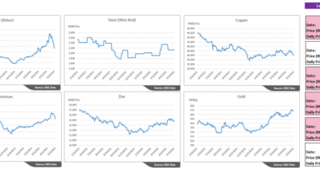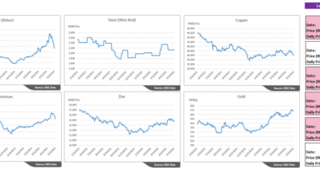 CEIC Gallery/Markets & Hot Topics sections - May 17, 2016
Workspace - Daily Metal Price
Workspace (Section A: Industry Figures)
Summary - Gold China is the largest gold producer in the world, contributing 14% of the world's gold production in 2015. In the first four months of 2016, the SHFE gold prices increased around 10%. The increase is mainly driven by slower US interest rate hike, negative interest rate policies implemented by leading global central banks, and market concerns on slowing economic growth in China. As a safe heaven, global economic risks, especially any interest rate shock from the US, would remain the key factor for gold's future price.
Summary - Steel China is the largest steel producer in the world, accounting for half of the global steel supply. The rapid expansion of China's steel market resulted in the chronic overcapacity issue for the global steel market. During 2015, a certain number of steel plants in China were shut due to capital rupture. Nevertheless, the rebound in China's real estate market driven by the government's stimulus policies led to more construction activities and hence higher steel demand in early 2016. From Jan to Apr 2016, the SHFE rebar prices surged over 40%. This encouraged suspended steel plants to resume steel production. Given that June to August is the traditional low season for the steel sector in China, the price increase may not be able to sustain for too long.
Summary - Copper From Jan to Apr 2016, the SHFE copper prices increased around 3-5%. China accounts for over 40% of copper demand in the world. In 2016, China is expected to have more construction activities, driven by the real estate frenzy, but less state grid investment. The expected net positive effect on copper demand, as well as increase in speculative investments due to weaker US and RMB, were the two major contributors for the price increase.
Summary - Aluminium From Jan to Apr 2016, the SHFE aluminum prices increased over 10%. Construction and transportation in China play an important role for the aluminum sector, given that China accounts for over 50% of demand. In 2015, Chinese government introduced stimulus policies for both real estate sector and automobile sector which increased China's construction activities and automobile demand. They lifted aluminum demand as well as the price.
Summary - Zinc In the first four months of 2016, the SHFE zinc prices increased over 10%, supported by zinc supply deficit due to mine closures and project delays. The increase in construction activities driven by the real estate frenzy in China also contributed to the growth. In fact, China accounts for around 50% of global zinc consumption, and the construction and infrastructure sector accounts for around 60% of the total zinc demand. As the result, zinc output and construction activities would remain the crucial factors for zinc price.
Workspace (Section A: Industry Figures)
Discuss this post and many other topics in our LinkedIn Group (you must be a LinkedIn member to participate). Request a Free Trial Subscription. Back to Blog