Low Energy Production Threatens Further Current Account Deficits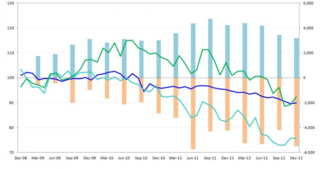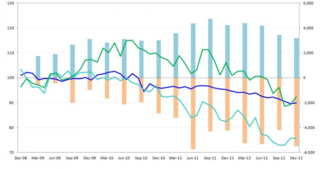 CEIC Indonesia Data Talk:
Indonesia's position as a major oil and gas producer has continued to weaken during 2012. Daily average crude oil production fell to 742.46 thousand barrels during December 2012 from 787.43 thousand barrels during December 2011. The trend was similarly reflected in production for natural gas and condensate; daily average production of natural gas declined to 7,746 thousand million standard cubic feet (MSCF) during December 2012 from 8,907 thousand MSCF during December 2011, while daily production of natural gas condensate declined to 92.60 thousand MSCF during December 2012 from 100.79 thousand MSCF during December 2011. Given several technological limitations, the bulk of Indonesia's crude oil production is produced via the production-sharing contract arrangement, accounting for over 80% of total crude oil and natural gas production, and for almost all condensate extraction. Under the production-sharing contract arrangement, foreign participation is fostered through cooperation between Indonesia's state-owned oil enterprise (Pertamina) and foreign contractors, the largest of which are US firm Chevron Corporation and the Canadian-based Talisman Energy (especially for natural gas).
Declining hydrocarbons production means that Indonesia has emerged as a net importer of oil; its trade deficit from oil and gas exports and imports widened to USD5.12 billion during 2012 from USD650.13 million during 2011 as the net export deficit from oil trade increased to USD20.31 billion in 2012 from USD17.53 billion during 2011. This coupled with Indoensia's increasing dependence on imported oil and gas as demand exceeds domestic production capacity have led to rising concerns that a recovery in its current account deficit (which widened to USD7.76 billion during the fourth quarter of 2013 from USD5.34 billion during the previous quarter) is almost impossible, especially in light of the poor global economic prospects and uncertainties in oil prices. At the same time, the reliance on oil imports threatens to expose Indonesia to high producer input prices, dampening growth in industrial production. Lowered production levels are attributed to Indonesia's aging oil and gas fields, poor infrastructures and relatively low investments in the sector, especially with regards to funding exploration in new oil and gas fields. The latter is further complicated by Indonesia's regulatory environment and the perceived distortions from rent-seeking activities. Recently, Pertamina has sought to address some of these issues by funding various oil field exploration projects. They include exploring for shale gas and increasing the incentives available to public-private sector partnerships, though the lack of investment in this sector has somewhat diminished its ability to finance these developmental activities.
Discuss this post
and many other topics in our
LinkedIn Group
(you must be a LinkedIn member to participate). Request a
Free Trial Subscription
.
By W. Meytha - CEIC Analyst
Back to Blog